Stink bugs reign supreme in the fall
Hang on for a minute...we're trying to find some more stories you might like.
Think again before crushing that armored-looking foe.
With the cooler, fall weather comes a multitude of strange insects called brown marmorated stink bugs.
They are green, brown, or grey in color and have a shield or oval-shaped body. When crushed or vacuumed, they emit a foul-smelling odor from pores located between the legs under the thorax.
These bugs originated in Japan, Taiwan, China, and South Korea and arrived in North America sometime in the 1990s. According to Michigan State University's integrated pest management website, they were first discovered in Michigan in 2010.
Freshman Brandon Ellis finds them to be a pest inside of his house.
"I don't like them," Ellis said. "I'll be trying to sleep and they'll be all around."
Mrs. Leah Thomas, zoology teacher, has also spotted the irritating bugs in her home.
"One, which I myself have noticed, is that I am finding them more in my house," Thomas said, "and I've talked to others who have been noticing them in their house as well."
While they prove to be nearly harmless to those in cities and suburbs, and rarely bite, they are much more than a household nuisance to the agricultural industry.
According to Pest World, these insects wreak havoc on "apples, peaches, figs, mulberries, citrus fruits, corn, tomatoes, green peppers and persimmons as well as ornamental plants, weeds, soybeans and beans grown for food production." This makes life extremely hard for those who make their living by growing and selling these crops.
Sadly, there are nearly no natural predators for the bugs and they maintain control until the cold winter months force them into hibernation.
According to Thomas, the foods they consume here could rise in price and make life difficult for us.
"They could drive up costs of our food if they destroy crops, and I don't think anyone wants to spend more money at the grocery store then they already do," Thomas said. "As a result, farmers may have to rely more on pesticides to kill them, and I also don't think people want (more) chemicals sprayed on their food either."
Marcelis Collins, senior, would dislike the change in price if crops were destroyed.
"That would make me angry," Collins said. "I don't want to pay more for food."
Thomas believes that the stink bugs were introduced to the United States accidentally, causing the upsurge here in the years following.
"I guess they were accidentally brought here," Thomas said. "As there is increasingly more travel by people, organisms are finding a way to move into new regions and often the result is detrimental to that area."

About the Contributor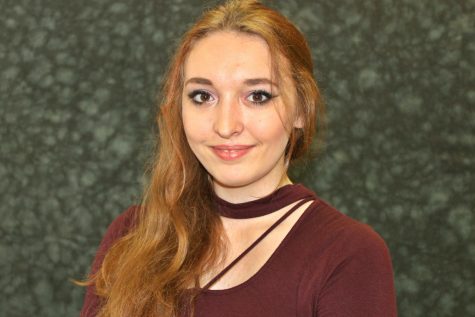 Brianna Horne, Editor in Chief

Birthday: May 11, 2000
Extracurricular activities: Newspaper
Hobbies: Playing violin, hanging with her friends and boyfriend, and horseback riding.
...