Metallica's latest album rocks
Hang on for a minute...we're trying to find some more stories you might like.
Metallica is back with their newest album, "Hardwired… to Self-Destruct."
This thrash metal album was produced by the Metallica vanity label Blackened Recordings.
For the past few months, their songs "Hardwired" and "Atlas, Rise!" have circulated among many rock radio stations across the United States.
"Hardwired" is the brainchild of James Hetfield and Lars Ulrich.
The title track includes a great beat and equally impressive lyrics.
This song is a great start to a great album, and if Metallica can keep this level of skill for the next few years, they will produce great music.
It is not the best song on the album, though.
"Atlas, Rise!", track two, is the cream-of-the-crop of the album.
The track features well-placed drum beats throughout the chorus and deep and moving lyrics.
This album is loud, deep, and a personal favorite of mine from the metal category.
"Atlas, Rise!" lyrics include, "How does it feel on your own, bound by the world all alone, crushed under heavy skies? Atlas, Rise!"
Lyrics like this haven't come from Metallica since 1991s "Metallica," the self-titled album more commonly known as "The Black Album," which peaked at No. 1 in almost every chart, except for Finland and Sweden.
If this is the new Metallica, I am excited for the future.
"Moth into Flame," the fourth track, is great as well.
It is the fourth track and was performed by Lady Gaga and Metallica at the Grammy Awards.
The lyrics are deep, especially toward the song's end.
"Same rise and fall, Who cares at all? Seduced by fame, A moth into the flame."
I like this track a lot. It has good guitar licks, and Hetfield does an excellent job of adding inflection to his lyrics, as he always has.
Songs like this display how Metallica is pertinent and not a memory of the early 1990s.
They may be older, but they still have the talent that it takes to stay relevant.
Do yourself a favor — listen to this album.
About the Writer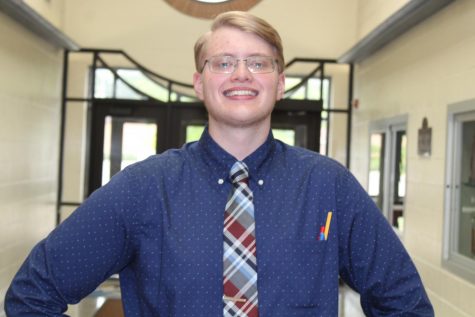 Connor Earegood, Editor in Chief
Class: Senior

Hobbies: I participate in quiz bowl, chess, robotics, Future Problem Solving, and many other "nerd sports."

Future Plans: I plan to...