Girls bowling wins 11th-consecutive Metro League title
Girls bowling took the end of its season by storm, winning against Linden and Flushing 27-3 and 17-13, respectively.
The Hornets won their 11th-consecutive Metro League championship with the victory against the Raiders.
Linden
​Traveling to Holly Lanes for a Metro League match, girls bowling won against Linden Saturday, Feb. 15, by a 27-3 score.
The Hornets earned a 10-0 lead during the Baker games.
The Hornets led 176-135 and 212-110 in the Bakers.
The Hornets gave no quarter to the Eagles during individual matches, earning 898 points against Linden's 553 and 779 to Linden's 646.
Final pinfall for the match earned the Hornets another victory, earning 2065 to Linden's 1,444.
Junior Megan Timm believes the team's performance could be better, managing a victory towards the end.
"It was definitely one of our worst performances as a team. We struggled to find a good look on the lanes," Megan said. "We were not as focused as we should have been but, we managed to come together and pull out a win."
Seniors Samantha Timm (142), Imari Blond (191 and 189), and Hannah Simms (130) helped lead the team to victory.
Contributing to the victory juniors Allison Robbins (206 and 185), Emilea Sturk (179), Megan Timm (180 and 110), and Allison Eible (165).
Megan hopes to improve her game.
"Personally, I felt that my performance was not good." Megan said. "I definitely struggled the entire match but in the end the team is what matters the most."
Match will take place Wednesday, Feb. 19. at Colonial Lanes in Flushing.
Megan said the the goal of the match will carry the game if done correctly.
"I think we all just need to focus on our goal which is winning. As long as we're focused we know good things will happen," Megan said.
Flushing
The Hornets faced the Raiders Wednesday, Feb. 19.
Baker matches against the Raiders were a disadvantage for the Hornets as the Raiders won both games to take a 10-0 lead.
The Hornets rose during individual games, winning the first game 999-943.
In the second set, the Hornets stepped it up and won 1018-886.
The total pinfall went to the Hornets 2,336-2,168.
Samantha (186 and 170), Blond (188 and 236), and Simms (180) contributed to the Hornets victory.
Robbins (209 and 208), Sturk (214 and 224), and Megan (202) added to the Hornets' success.
The Hornets are 11-0 for the season, winning the Metro League title and their 131st consecutive victory.
The Hornets will travel to Grand Blanc Lanes for an MHSAA Division 3 district tournament Saturday, Feb. 22.
Leave a Comment
About the Contributor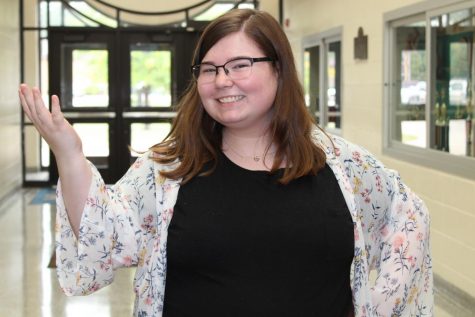 Hope Wills, Special Projects Editor
Class: Junior

Hobbies: Reading, writing, and hanging out with friends and family.

Future Plans: After high school, I plan to attend community...