Girls bowling dominates matches, tournament
Girls bowling maintained its victorious streak during the weekend, winning against Corunna and Fenton, 27-3 and 30-0, respectively, Saturday, Feb. 8, and winning at S&R Singles tournament.
Girls bowling is now 9-0 on the season and will face Linden Saturday, Feb. 15.
Corunna
The Hornets traveled to Riverbend Bowl to challenge the Cavaliers.
Baker games favored the Hornets with a 37-pin difference in the first round.
This put the Hornets in a 10-point lead.
The Hornets dominated the individual games with two-game scores of 830 to 711 and 921 to 776.
Total pinfall for the match against Corunna favored the Hornets with a 344-pin difference.
Top scores of the match were seniors Samantha Timm (163 and 162) and Imari Blond (179 and 300).
Juniors Allison Robbins (160), Emilea Sturk (201 and 205), Megan Timm (127), and Allison Eible (139) also chipped in.
Fenton
The Hornets crushed the Tigers, gaining a 10-0 lead after the Baker games.
Individual games made the Hornets rise to the top with two-game totals of 970 to 554 and 971 to 549.
Total pinfall favored the Hornets 2,330 to Fenton's 1,339.
Top scores came from Samantha Timm (171), Blond (259 and 248), and senior Hannah Simms (160).
Contributing to the scores, Robbins (193 and 189), Sturk (177 and 215), Megan Timm (170), and Eible (159) helped propel the Hornets.
S & R Singles Tournament
The Hornets attended the S & R Singles Tournament in Bay City Sunday, Feb 9.
The tournament started slow for the Hornets but they came out on top after qualifying with six of seven girls placing.
The Hornets who qualified were Blond, Samantha, Robbins, Sturk, Simms, Eible, and Megan.
The Hornets moved on, advancing Blond, Samantha, Eible, and Robbins to the final 10.
Blond, Samantha, and Eible moved on to the final five.
Robbins placed seventh overall after her elimination.
Samantha Timm beat Eible to take on Blond in the final.
The match ended in Blond's favor as she won the tournament title for the fourth year.
Eible feels her performance during qualifying was average but improved throughout the tournament.
"I think I did all right," Eible said. "I struggled during qualifying but after qualifying, I started bowling the best I had for a while."
About the Contributor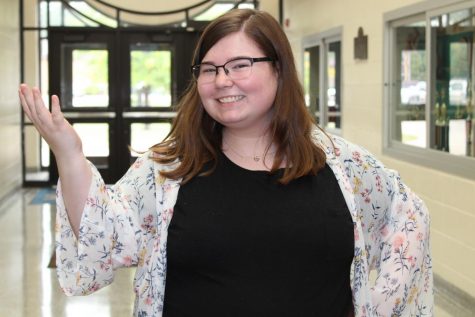 Hope Wills, Special Projects Editor
Class: Junior

Hobbies: Reading, writing, and hanging out with friends and family.

Future Plans: After high school, I plan to attend community...