Homecoming spirit days start next week
Hang on for a minute...we're trying to find some more stories you might like.
Homecoming is a time for KHS students and staff to demonstrate school spirit, talent, and enthusiasm. One of the homecoming activities students enjoy participating in is spirit week.
Spirit week begins Monday, Oct. 1, and lasts through Friday, Oct. 5,  leading up to the homecoming football game against Swartz Creek on Friday night at 7 p.m., and the homecoming dance Saturday, Oct. 6, at 7 p.m.
Spirit week includes different themes each day to encourage students to dress up.
Students will receive points for their grades by checking in before first hour.
Due to construction, the Student Council check-in desk will be at a different location this year, but it has not been determined yet. The location will be announced before homecoming week begins.
Senior Chloe Clarambeau, Student Council president, expects students to have fun with the spirit days this year.
"We decide on the spirit days during the council meeting where we offer up ideas and vote on our favorites," Clarambeau said. "The days this year are fun and super easy, so I think the involvement should be good."
The schedule for the spirit days is as follows:
Meme Monday:
Students (and teachers) are encouraged to dress up as or act out their favorite meme. Plan on having quite the laugh this day. Be anything from Vines to jokes on the internet, use your imagination and create a comical look.
Tropical Tuesday:
Throw on a Hawaiian shirt, a lei, sunglasses, and your favorite pair of sandals for this spirit day. Students have been seen with sunscreen on their noses, flippers on their feet, or tourists with hats and cameras. What would you wear on a tropical getaway?
Superhero Wednesday:
Who is your favorite superhero? Show the school by wearing a T-shirt with a superhero's logo on it or, perhaps, socks, or even a cape.  If you don't have a favorite superhero, make up your own.
Throwback Thursday:
For this day, each grade is assigned a specific decade. Students will dress in that decade's style.
Seniors: '90s – Popular clothing in the 1990s included black leggings with over-sized sweaters, low heel shoes, flannel shirts, denim everything, T-shirts, sweatpants, skirts, Birkenstocks, solid colors, silk shirts, turtlenecks (under cardigans or sweaters), and plain white Keds.
Juniors: '80s – Women's apparel in the late 1980s included jackets, sweater dresses, and baby doll dresses worn with capri leggings or bike shorts. The popular style also included slouch socks, Keds, or Sperrys with opaque tights and flats, jumpsuits, miniskirts, stretch pants, tapered pants, and skirts worn with leggings. Popular colors included neon hues, plum, gold, and bright wines.
Popular clothing in the early 1980s worn by men includes tracksuits, v-neck sweaters, polyester and velour polo-neck shirts, sports jerseys, straight-leg jeans, jeans rolled to show off their slouch socks, polyester button-ups, cowboy boots, beanies, and hoodies.
Sophomores: '70s – Popular early 1970s fashion for women included tie-dye shirts, ponchos, and capes. Bottom attire for women during this time included bell-bottoms, gauchos, frayed jeans, mini skirts, and ankle-length maxi dresses.
For men, a large portion of the clothes from this era were made of polyester or a blend of cotton and polyester. Later in the decade, velour and terry cloth became a very popular choice of fabric for men's shirts.
Freshmen: '60s – Women apparel included mini skirts, false eyelashes, and pillbox hats. Psychedelic prints, neon colors, and mismatched patterns were in style. The hippie movement also exerted a strong influence on women's clothing styles, including bell-bottom jeans, tie-dye and batik fabrics, as well as paisley prints.
Men mostly followed Ivy League fashion in the 1960s. Typical outfits included polo shirts, harrington jackets, khaki chino pants, striped T-shirts, sport coats, sweater vests, cardigan sweaters, and basket-weave loafers.
Blue and Gold Friday:
Students are encouraged to dress in school colors. Whether it's clothing or face paint, today is the day to show school spirit.
The hallways are expected to be a sea of blue, gold, and excitement.
About the Contributor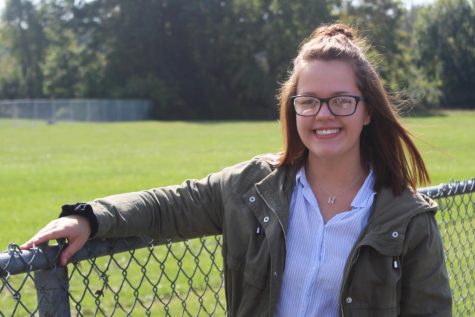 Jenna Robinson, Editor in Chief

Birthday: Oct. 26, 2000
Hobbies/Interest: Playing electric, acoustic, and bass guitar, as well as ukulele. I also enjoy drawing, reading, writing,...