Lupus Awareness Month brings visibility to an invisible disease
Hang on for a minute...we're trying to find some more stories you might like.
After taking what should be a relaxing stroll on a summer day with her children, junior Audriana Counelis' mother, Mrs. Crystal Counelis, suffers from fatigue, joint pain, shortness of breath, and headaches.
What ruins what should have been an enjoyable time with her family? Lupus, a chronic systemic autoimmune disease.
May is Lupus Awareness Month. According to the Lupus Foundation of America, a staggering two-thirds of the public knows little or nothing about lupus. 
Lupus occurs when the body's immune system attacks its own tissues and organs affecting the joints, skin, kidneys, blood cells, the brain, heart, and lungs. The body cannot tell the difference between viruses, bacteria, and germs and the body's healthy tissue. Therefore, the body creates antibodies that destroy healthy tissue.
People with lupus face different symptoms; no case is exactly alike.
Lupus can be caused by a combination of genetics and the environment. Lupus can be triggered by the sunlight, having an infection, or by taking certain types of medication such as antibiotics, blood pressure medication, and anti-seizure medications.
The disease is more common in woman between the ages of 15 and 45.
For Mrs. Counelis, stress, over-exertion, and being in the sun too long can cause flare-ups.
"I become extremely fatigued," Mrs. Counelis said in relation to her triggers. "Sometimes I can hardly walk."
According to Lupus.org, there are 16,000 new cases of lupus each year.
There are four types of lupus: systemic lupus erythematosus, cutaneous lupus erythematosus, drug-induced lupus erythematosus, and neonatal lupus.
The most common form of lupus is systemic lupus erythematosus, also known as SLE. This type causes inflammation of the kidneys, the nervous system, the brain, blood vessels, and hardening of the arteries.
Cutaneous lupus erythematosus involves the skin and various rashes
that occur.
In addition, drug-induced lupus erythematosus is lupus triggered by prescription drugs, typically: Hydralazine, Procainamide, and Isoniazid.
Finally, neonatal lupus — which technically isn't a form of lupus —  affects infants with mothers who have lupus. Neonatal lupus is extremely rare but can result in the infant having rashes, liver problems, low blood cell counts, or heart defects.
Mrs. Counelis was diagnosed with SLE at age 27 and is the only person in her family with the disease. Her main symptoms are pain and fatigue.
"I have fatigue and pain everyday, as well as muscle and joint pain," Mrs. Counelis said. "Some days the fatigue is worse than others. I struggle with the fact that I will never feel normal without the fatigue and pain.
"My biggest struggles are just trying to live a normal, everyday life. I work a full-time job and it is hard to maintain my house and cook dinner everyday and not be too tired to spend time with my family."
Audriana said it can be difficult living with a family member who has lupus.
"My mom having lupus can make things a bit frustrating," Audriana said. "It's hard to understand and remember that doing anything impacts her differently than it would impact me. I, along with my siblings, have to help a lot with things around the house like cleaning and laundry because walking up and down the stairs wears her out quickly."
"
I want people to know that lupus can be an invisible disease. We may look OK on the outside, but we are struggling to do normal everyday activities."
— Mrs. Crystal Counelis
Because Audriana helps her mother, there are times when Audriana has to reschedule her plans.
"A lot of times I've had to stay home from hanging out with my friends to help my mom out," Audriana said. "It is frustrating because they (my friends) often think that I am blowing them off. It's hard for them to realize that my mom's needs are different than theirs."
Lupus can be difficult to understand because it typically isn't a disease you can see on the surface.
"I want people to know that lupus can be an invisible disease," Mrs. Counelis said. " We may look OK on the outside, but we are struggling to do normal everyday activities."
About the Contributors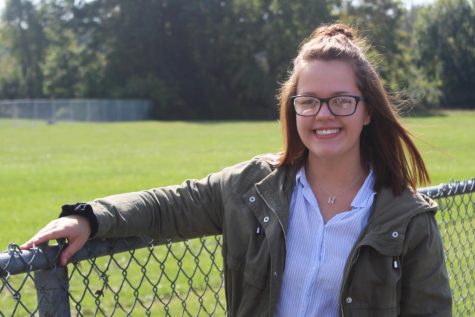 Jenna Robinson, Editor in Chief

Birthday: Oct. 26, 2000
Hobbies/Interest: Playing electric, acoustic, and bass guitar, as well as ukulele. I also enjoy drawing, reading, writing,...