Ruhstorfer wins third league championship in four years
Hang on for a minute...we're trying to find some more stories you might like.
Seven wrestlers from Kearsley High School earned All-League honors at the Flint Metro League Championship at Holly Saturday, Feb. 3.
Senior Andy Ruhstorfer, wrestling at 125 pounds, earned first team and was Kearlsey's only champion. This is Ruhstorfer's third title in four years, placing second his junior year.
The feeling of winning has not wore off on Ruhstorfer.
"The third title felt just as good as the other two," Ruhstorfer said. "It's a great feeling to be on the top and being reminded of your hard work."
Ruhstorfer worked hard to reclaim his title as champion. Between making weight and training, Ruhstorfer put a lot of effort to get where he is now.
"During training I pushed myself harder than I have in previous years," he said. "My biggest obstacle was making weight. If I was healthy, I knew I could beat my opponents."
But Ruhstorfer couldn't have done it without the people who pushed him to be the best he could be: Coach Luther Brown and his dad, Mr. Tom Ruhstorfer.
"Luther advised me every step of the way and my dad did the same but also influenced me to make weight," Ruhstorfer said.
"
The most important thing I've learned is mental control and self-obedience."
— Andy Ruhstorfer, senior
With his high school wrestling career coming to an end, Ruhstorfer looked back on his previous years and the lessons and skills he has learned.
"The most important thing I've learned is mental control and self-obedience," Ruhstorfer said. "You have to be strong mentally and you must control yourself."
Sophomores Trenton DiGenova, La'Ron Ruffin, and John Brown were Kearsley's runners-up in the weight classes 135, 119, and 189, respectively.
DiGenova is happy with his finish in the league.
"I didn't place last year, so I feel like I improved a lot this year by placing," DiGenova said.
From not placing last year to being a runner-up this year took a lot of work.
"I did extra wrestling practice over the spring and summer, did tournaments in and out of state, and attended wrestling camps," DiGenova said.
The support he got from others also helped him improve his wrestling.
DiGenova listed his supporters as his coaches, practice partner Ruffin, and his mom and dad.
Ruffin placed third last year and is happy with his improvement.
"It feels great knowing that all my hard work paid off when I needed it," Ruffin said.
Ruffin took extra measures to make sure he improved this year.
"I made sure my weight was down and took every match as if it were my last," Ruffin said.
Ruffin attributes much of his improvement to his teammates.
"I did a lot of self-training," he said. "But Trenton, John, Andy, and Malik all helped me become the wrestler I am this season."
"
In my mind, nobody is a tough opponent for me."
— La'Ron Ruffin, sophomore
During his matches, Ruffin focused on his wrestling and taking down his opponent.
"The hardest obstacle was trying to not make any mistakes," Ruffin said. "In my mind, nobody is a tough opponent for me. It just comes down to me setting the tempo of the match and making my opponent wrestle my style."
Last season, Brown did not place. He is proud to have placed second this year.
"It feels good because the change from last year to now was not easy," Brown said. "It has made (me) determined to bring more out of myself."
To make this improvement, Brown had to make many changes.
"This year I had to make a lot of mental adjustments," Brown said. "Although I did train a lot harder this year, it was the 'impose your will' mentality that made all the difference."
The ailment of a fellow teammate pushed Brown to do the best he could this year.
"Honestly, Malik Davis is one of my best friends and seeing him going through one of his roughest seasons ever made me want to help," Brown said.
Davis, a senior who won a league title last year, was injured this season. He could not wrestle at the league championship but hopes to compete in the state tournament.
Kearlsey had three wrestlers place third in the league. Those wrestlers were freshmen Jason Judd and Rodney Richards, as well as sophomore Tyler Bycznski in the weight classes 103, 130, and 160, respectively.
The Hornets finished fourth overall in the league and will appear next at home for the district tournament Thursday, Feb. 8.

About the Photographer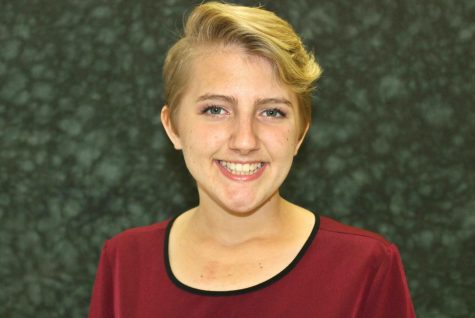 Emily Rose, Reporter/Social Director

Birthday: September 12, 2000
Extracurricular activities: Theater
Hobbies: Painting, theater, and making memes.
Plans after high school: College
...