Madeline Raysin successfully balances a busy schedule
Hang on for a minute...we're trying to find some more stories you might like.
Junior Madeline Raysin is an active member in many extracurricular activities. She's a diver for the swim and dive team, a junior varsity tennis player, and a dancer for K-Motion and Academy De La Danse.
You can often find Raysin rushing from her morning swim lessons to her honors classes, sporting a messy bun, hoodie, and sneakers.
Her days are filled with studying for classes like AP government and trigonometry, practicing her dance moves, and finding time in between for family and friends.
Even with her schedule completely full, she keep her grades up and excels in her extracurricular activities.
While her schedule is filled to the brim, Raysin enjoys spending her time in a productive way. She especially enjoys being a diver and co-captain for the swim team.
"Being on the swim team challenges me a lot. It's nice to get in the water, do your sets, and just forget about everything that's happened during the day," Raysin said.
While Raysin tries to look on the bright side of her busy lifestyle, she recognizes that balancing everything can get difficult.
"During swim season I have a lot going on," Raysin said. "I have two other sports (school and studio dance) and hard classes that I'm getting used to."
Having nearly every free minute filled, it's hard for Raysin to manage her time well to get everything done.
One strategy Raysin uses to get through her busy schedule is to surround herself with a good support system. People like friends, family, and coaches help Raysin succeed in her daily activities.
Mr. Cory Fisher, tennis coach, recognizes Raysin's hard work.
"Maddie is extremely athletic. Her swimming, diving, dancing, and tennis make her a well-rounded athlete," Fisher said. "She will be an important part of our team. She has the ability to play singles or doubles and compete well in either."
Raysin's parents are also supportive of her multiple extracurricular activities and challenging classes.
Raysin's mother, Mrs. DeAnna Raysin, is proud of the balance Madeline has found for her classwork and sports.
"I used to worry quite a bit about the balance between Maddie's athletics and academics. Not because we expect perfection from her, but because she expects it from herself," Mrs. Raysin said. "She maintains her grades well, but not without trying. Often after a long day of practices, she will just start cracking the books at 9 p.m.
"She has now found a pretty good balance of her time and everything works. I'm very proud of the choices she's made."
Through her multiple after-school activities, Raysin has met many people she may not have without her determination to dance, swim, and play tennis.
Senior Megan Delong met Raysin through swimming.
Delong has become close friends with Raysin and respects her as a friend and athlete.
"Maddie and I became close only because of us being on the swim team. If it wasn't for the team, I'm pretty sure we wouldn't be friends," Delong said. "Maddie is one of my closest friends that I can tell anything to about any given situation.
"She is such a great athlete. She balances her grades and her sports all of the time, and I admire her for that."

About the Writer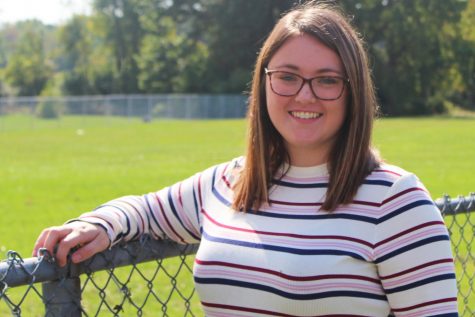 Autumn Prescott, Special Projects Editor

Birthday: Aug. 2, 2001
Hobbies/Interests: NHS, drama club, Freshman Mentors.
Favorite Quote: "Find out who you are and do it on purpose."...