Inspirational women change the world
Hang on for a minute...we're trying to find some more stories you might like.
With so many people focusing on the negativity happening around the globe, it's important to take time to recognize the people who bring hope and motivation to their surroundings.
Throughout history there have been women who have taken a stand, defied social and political norms, and made a difference. There are also inspirational women doing all of these things today.
These women's legacies have and will continue to stand the test of time and are inspiring millions around the world.
Michelle Obama
Former First Lady Michelle Obama is known as an intelligent, confident, fashion-forward woman.
Born in Chicago, Obama went on to study at Princeton University and Harvard Law School. Her early career as a lawyer was spent at the Sidley Austin law firm, where she met her husband, former President Barack Obama.
During her time in the White House, Obama became a prominent advocate for women's rights, LGBTQ rights,  poverty awareness, and exercise. She is also well-known for her push for healthy and nutritional food in school cafeterias across the country.
Obama is currently campaigning for girls' education and has attended many conferences centered around the issues she's concerned with.
Diana, Princess of Wales 
Former member of the British Royal Family, Princess Diana Spencer was known for her kindness and charity work. She spent much of her time campaigning for issues like animal protection, erasing the negative stigma around those suffering from AIDS, and working with organizations for the homeless, youth, elderly, and drug addicts.
Princess Diana was also known for her fight against landmine usage. She visited Angola in 1997 and her goal was to spread awareness of the harm landmines did every day around the globe.
She balanced the pressures of motherhood, being a former member of the royal family, and being in the public eye with grace.
Since her death in August 1997, Princess Diana has been remembered as a lady of intelligence, affection, and warmth.
Audrey Hepburn
While Audrey Hepburn is mostly recognized for her roles in films like "Breakfast at Tiffany's" and "Roman Holiday," the British actress also dedicated much of her time to the well-being of others.
During her career, Hepburn helped The United Nations Children's Fund, and by 1989 she was appointed a Goodwill Ambassador of UNICEF.
Hepburn had much faith in the UNICEF organization, being one of the children who was helped by the fund during post-WWII conditions.
Hepburn could relate to the children she helped on an emotional level and that allowed her to establish a deep connection with those who needed her attention.
She spent much of her time after retirement working with the organization and visited many countries on behalf of UNICEF, including Turkey, Vietnam, and Ethiopia.
So while Hepburn is famous for her films, she is loved by millions due to her work to help those less fortunate than herself.
J.K. Rowling
Joanne Rowling, better known as J.K. Rowling, is the author of the worldwide phenomenon the "Harry Potter" series.
Rowling has been publicly open about her struggle with depression and financial instability before the success of her first novel "Harry Potter and the Sorcerer's Stone."
She even admits that the dementors in the "Harry Potter" series are a representation of the depression she felt every day while writing the novels.
She founded Volant Charitable Trust in 2000, which works to combat social inequality and poverty.  The Trust also works to help children, one-parent families, and research for multiple sclerosis.
Rowling has inspired millions to become writers and avid readers, and she continues to use her influence for good.
Rosa Parks
Rosa Parks was a significant figure in the civil rights movement and is well-known for her defiance of the social norms of the 1950s.
On December 1, 1955, Parks refused to give up her seat on a city bus for a white man.
This sparked racial tension in the city of Montgomery, Ala., and eventually resulted in the Montgomery Bus Boycott.
After that day, Parks was recognized as a strong symbol for the civil rights movement, and she spent her life fighting for racial equality.

About the Contributor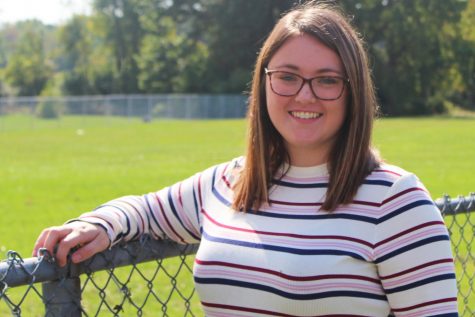 Autumn Prescott, Special Projects Editor

Birthday: Aug. 2, 2001
Hobbies/Interests: NHS, drama club, Freshman Mentors.
Favorite Quote: "Find out who you are and do it on purpose."...