Davis shapes her future as she prepares for college
Hang on for a minute...we're trying to find some more stories you might like.
The journey of high school will soon be coming to an end for seniors, and those like Erin Davis couldn't be more excited for what comes next.
Davis has been accepted into Ferris State University, which was her first choice when picking colleges.
"I am extremely excited about going to college," Davis said. "I can't wait to study what I'm truly passionate about."
At FSU, Davis plans to major in music industry management and obtain a Bachelor of Science in business administration.
"This program at Ferris is one-of-a-kind," Davis said. "Students produce live concerts and other events throughout the year as members of the Music Industry Management Association, which functions as a student-run production company."
Through this program, students are responsible for booking the artists and venues, as well as for promotion, hospitality, stage set-up, sponsorships, and merchandise.
Two internships are required and give students opportunities to gain real-life experience in the industry while travelling to and working in well-known places.
"I may also minor in marketing sales because I am also passionate about the ever-changing world of digital media advertising," Davis said.
Davis does not yet have a career set but plans to figure out that path through FSU.
"At the moment I do not have a set career choice yet," Davis said. "I am definitely looking forward to exploring my options at Ferris though and taking advantage of the two internships I will have in order to test out what exactly it is I want to do."
Right now Davis is leaning toward tour management because she loves to travel and works well handling big tasks under pressure. Concerts are a huge passion of hers, so hosting them every night would be an ideal career."
College is a new lifestyle that can be both scary and exciting. Getting a taste of life on your own is a thrilling experience — one that Davis is ready to take on.
"I hope to gain networking skills and to make the most of every moment," Davis said. "It's not everyday you get the opportunity to take a hold of your future and start fresh, so I'm excited to move forward and get away from home.
Davis is happy with the path she is on. Even with all of the nerves earlier on, she believes she is making the right decisions for herself.
"At the beginning of the school year I was nerve-racked," Davis said. "I knew what I wanted to do with my life but had no plan of action on how to achieve it.
"Once a friend introduced me to Ferris and their music industry management program, I was sold. I've been committed ever since. I am confident that this program will lead me to success in my field and allow me to reach my greatest goals and aspirations."
High school is something that many seem to be hard to let go of, but aside from missing friends and family, Davis is ready to let go and move on to her new college life.
"For the last two years of high school, I've struggled to understand why people cried during Class Day," Davis said. "I've been begging to get out for years.
"However, entering my second semester of senior year, I have realized one massive thing and probably the only thing I'm going to miss about high school: seeing my friends every day. As we all go our separate ways, it's going to become increasingly difficult to stay in touch, but I'm hopeful that my friends and I will remain as tight as ever."
Davis encourages underclassmen to take every opportunity that they are given and to keep an open mind.
"No matter what grade you are in, take every opportunity to explore what you might want to do as a career," Davis said. "The sooner you determine that, the easier it makes things. It won't always come naturally, or quickly, but when it does, you'll know.
Davis suggests students should explore different classes and opportunities now so they are better prepared for the future and to start figuring out what they enjoy to make choosing a career later much more manageable.
"You may be thinking, 'I don't need to know what I want to do with the rest of my life right now,' and you're right. You don't," Davis said. "But I promise you that exploring those opportunities now will make the process of choosing a lot easier in the future."
About the Contributors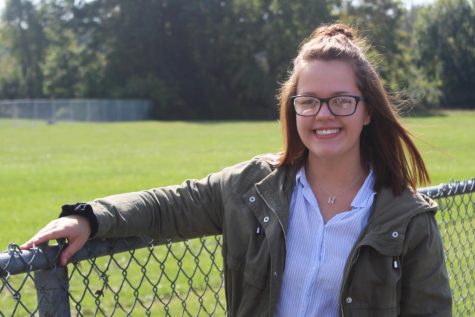 Jenna Robinson, Editor in Chief

Birthday: Oct. 26, 2000
Hobbies/Interest: Playing electric, acoustic, and bass guitar, as well as ukulele. I also enjoy drawing, reading, writing,...