Like magic, Tyler Gronauer lives his dream instead of chasing it
Hang on for a minute...we're trying to find some more stories you might like.
Harry Houdini, David Copperfield, David Blaine, Criss Angel … and Tyler Gronauer?
Gronauer is a sophomore at KHS and is pursuing his talent of performing magic.
Gronauer first became interested in magic when he was 5 years old after his aunt and uncle gave him his first magic kit.
"It was like super powers in a box," Gronauer said.
He learned all of the tricks from the kit that same night and performed them for his family. He has been pursuing magic ever since.
Through magic, Gronauer has learned a variety of new skills.
"I have learned about how people's minds work," Gronauer said. "One of my favorite concepts in magic is how to direct someone's attention to something. People can be subconsciously controlled."
Gronauer said, along with magic, music plays a large role in his life.
"I play the clarinet in the marching band," Gronauer said. "I also play guitar in a mariachi band and play classical guitar. Piano is another hobby. And I play percussive instruments."
Gronauer's career in magic accelerated when he started working at a Fenton restaurant — The Laundry.
"The previous magician could no longer do the gig, and he recommended me to the owners," Gronauer said. "They let me do a trial run. They loved me. I got the gig, and I've been there for almost three years."
Ms. Megan Geralds and Ms. Bria Trevillian, two of Gronauer's co-workers at The Laundry, are thoroughly impressed by Gronauer and enjoy having him in their work environment.
"When Tyler started working at The Laundry he was a bit shy," said Geralds, head bartender at The Laundry. "I'm sure he was nervous with the new job, new co-workers, and having to be quite more social. Let me say, it did not take long for him to shake that."
Geralds said she was amazed from the first time she saw a performance by Gronauer.
"Tyler absolutely blew my mind with all his tricks, so much that I never wanted him to leave my side," Geralds said. "I was hungry for more magic. Tyler G. magic. It makes me so happy seeing him walk into work every Sunday morning to put a shocked look and smile on everyone's face."
Geralds said it is a privilege to work with and know Tyler.
"I consider myself very honored, not only to work with him, but to have met someone who is so awesome and watch him grow," Geralds said.
Trevillian has been working as a bartender and server at The Laundry for four years and has worked with Gronauer for about three.
Trevillian said Gronauer comes alive with his magic.
"Tyler started working the first Mondays of every month for Kid's Night," Trevillian said. "He was young and a little timid. However, even with being timid, when it came to his magic tricks it couldn't be more opposite. Nowadays Tyler works every Sunday. He has become so confident and approachable."
Trevillian is in awe from seeing magic tricks from Gronauer.
"He can take a Rubik's Cube all messed up and throw it in the air and complete it. It's wizardry," Trevillian said.
Gronauer's family is supportive of him and his ambitions.
Gronauer said his grandfather is his biggest fan, living his dream vicariously through him.
He also said his parents are encouraging and helpful, as they drive him to his gigs since he doesn't yet have his license.
Mrs. Lisa Gronauer, Tyler's mom, said she is incredibly impressed by Tyler and everything he is achieving.
"Tyler's a well-rounded person, with many interests, which includes excelling academically, musically, and as a working magician," Mrs. Gronauer said. "Not to mention, he is two merit badges and one project away from becoming an Eagle Scout."
As a proud mom, Mrs. Gronauer also said how lucky Tyler is to be pursuing something he loves with such passion.
"It's nice to know he'll have so many possibilities and opportunities in his future," Mrs. Gronauer said. "No matter what Tyler chooses to do in the future, he's sure to be a success and we couldn't be more proud of him."
Gronauer described his sister, Jessica, as being his role model since he was little.
"I have always looked up to my sister," Gronauer said. "She is so successful. I strive to reach the kind of success she has."
Gronauer continues to learn and grow as a magician by attending magic conventions.
"Believe it or not, magicians have lectures and conventions," Gronauer said. "I go to these conventions as often as I can to learn new skills and techniques. I have met several awesome guys at these conventions who have the joy of being a full-time magician."
Gronauer said he plans to further develop his career by performing for larger audiences.
"I want to expand my horizons," Gronauer said. "I mostly do close-up magic. I love to challenge myself. I'd love to start doing some stage shows and bigger productions."
To Gronauer, magic is more than just a pastime. It's feeling the energy going into his tricks. It's watching the moment when his deceptive trick brings a smile to someone's face. It's a dream that has now become his reality.
"Magic has allowed me to have a way to connect with people. It goes back to giving them a memory that, hopefully, they will keep forever," Gronauer said.
About the Contributors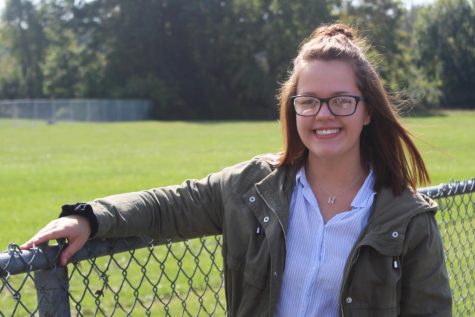 Jenna Robinson, Editor in Chief

Birthday: Oct. 26, 2000
Hobbies/Interest: Playing electric, acoustic, and bass guitar, as well as ukulele. I also enjoy drawing, reading, writing,...