Kearsley mourns its superhero
On the morning of Friday, Nov. 22, Mr. Edward Councilor, history teacher, passed away in his sleep. He was 58.
Councilor's family received visitors Monday, Nov. 25, at Allen Funeral Home. He will be cremated following a reception of visitors from 2 p.m. to 3 p.m. and a service at St. John Catholic Church in Davison, at 3 p.m. Tuesday, Nov. 26.
Classes will be held according to assembly schedule so students and staff can attend the service.
Councilor's legacy is inseparable from Kearsley history and tradition.
Students remember his caring and helpful persona, including junior Jenna Davis.
"No matter how smart you were or how much help you needed, he didn't judge and was always willing to help," Davis said. "He just wanted to help."
Councilor taught at KHS for 27 years, helped coordinate Kearsley's Special Olympics program, and coached middle school cross country, track, and basketball during his career. He also worked as a volunteer Santa Claus.
After learning of his passing, students placed sticky notes on Councilor's classroom door full of sentiments and memories.
Students and staff also wrote messages on posters adorned with Batman symbols representing Councilor's love for the caped crusader.
Councilor held ties with countless Kearsley families, including that of alumna Chloe Vollmar.
"He and my dad were old basketball teammates, so he always teased me a little extra (in class)," Vollmar said. "He made sure everyone understood what he was teaching while making it fun too."
Vollmar will miss Councilor dearly.
"He was a great man and teacher," Vollmar said. "He will be missed by so many."
Junior Keneddy Pearson, Councilor's niece, remembers the good times she had with her uncle.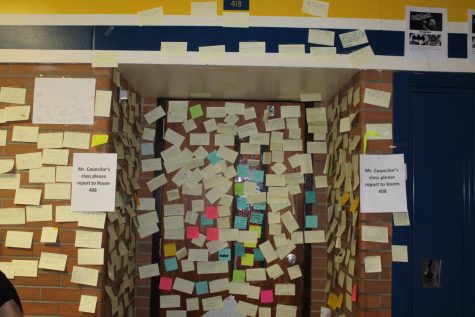 "We went kayaking one day during the summer," Pearson said. "It was one of his favorite things to do. During the entire trip, we talked and made jokes. He kept splashing my cousin and playing around."
Pearson loved being around Councilor because of his caring nature.
"He was such a caring person and never made life boring," Pearson said.
Councilor's fellow teachers have amazing memories of him.
Mr. Kelly Christian, chemistry teacher, will deeply miss Councilor's cheery personality.
"Everyday he came in and asked for the next snow day and would be so happy when I said yes," Christian said. "He was always empowering people to overcome their giants. He didn't wear the Batman outfit but he had the utility belt."
Mr. Mike Whalen, economics teacher, taught next door to Councilor. He remembers a prank war the two engaged in.
"We briefly had a prank war that lasted until he had one of my classes take all of the desks out of my classroom and put them in the hallway," Whalen said. "After that, I let him think he won.
"I began secretly signing him up for free samples and enjoyed seeing his reaction when they arrived. My favorite was the day an adult diaper showed up in his mailbox."
Whalen will miss Councilor's sense of humor and kind heart.
"I genuinely believe there wasn't a day that went by where Ed wasn't trying to make a difference," Whalen said.  "Whether he was towing my car out of a snowy front yard, helping Mrs. (Lisa) Diener with the Special Olympics, making a staff member smile in the copy room, or randomly collecting supplies for students in need, he showed everyone what it meant to be a kind and caring human being on a daily basis."
Miss Brianne Kaufner will take over Councilor's classes for the rest of the year.
Kaufner, once a student teacher at KHS, remembers the lessons Councilor taught her and his kind heart.
"He told me to take time for myself because work can consume you," Kaufner said.  "He would poke his head into (Mr. Andy) Nester's class and check on me."
Councilor would do random favors for his coworkers. He even took students out to lunch at Starlite to help them with school work.
Students and staff will remember Councilor and carry on his legacy in many ways.
Kearsley students and staff wore Batman-themed attire Monday, Nov. 25, in memory of Councilor and his deep passion for Batman.
Mr. Andy Nester, political science teacher, is encouraging his students to do something Councilor would do.
Raising money to purchase an advertisement in the Echo, students and staff will include pictures and community messages in the yearbook to show his impact on Kearsley.
The Class of 2020 will dedicate its Class Day ceremony in memory of Councilor and Mrs. Leanne Wartella, an Armstrong Middle School teacher who passed away Aug. 4.
About the Contributor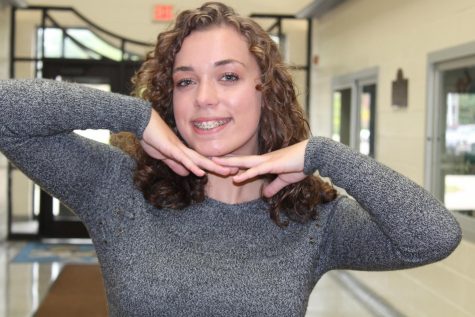 Mackenzie Atkinson, Photography Editor
Class: Junior

Hobbies: Taking pictures of landscapes and sports

Future Plans: I plan to move to the Carolinas and go to college for environmental...