'Dinner at Eight, Dead by Nine' brings mystery to audience
KHS choir is hosting this year's annual dinner-play "Dinner at Eight, Dead by Nine" Friday, Nov. 22 at 6 p.m. and Saturday, Nov. 23 at 2 p.m.
The dinner-play is a fund raiser to help the students in the Melody Makers and Acapella groups traveling to Nashville, earn money for the trip.
The play will take place at East Flint Church of the Nazarene.
Ticket price is $20 per person which includes a spaghetti dinner and dessert catered by Italia Gardens.
"Dinner at Eight, Dead by Nine" is a story about a rich patron of the arts who ends up dead in her plate at a dinner in her honor. There are many suspects and picking out the culprit is all part of the fun.
Senior Jillian Locke, member of the play, loves the dynamic of the group auditioning.
"I think the most enjoyable part about participating in plays is you're able to be someone else other than yourself, and you can be as flamboyant as you want without anyone judging you," Locke said. "I always love the groups of people that audition. The diversity makes it fun."
Locke hopes the play will help students create bonds with others.
"Working with everyone like this you find out a lot about them, naturally bringing you closer," Locke said. "You're able to learn a lot about yourself as a person by doing something like theater. You're able to present better and more effectively in whatever way that may be. Also it's simply just fun. "
Locke is confident that "Dinner at Eight, Dead by Nine" will be a success.
"I am confident that this play is going to be a success even though the group is young and new," Locke said. "I'm going to make sure this is extremely fun, just like every performance I've been apart of."
About the Writer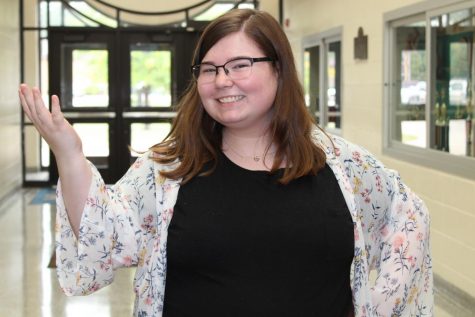 Hope Wills, Special Projects Editor
Class: Junior

Hobbies: Reading, writing, and hanging out with friends and family.

Future Plans: After high school, I plan to attend community...