Spirit days celebrate Homecoming
Students will partake in a Kearsley tradition by celebrating homecoming spirit days next week.
This year's Homecoming is Pixar-themed.
Senior Cole Zemore, Student Council president, hopes the spirit days get more people involved in Kearsley pride.
"People complain about there not being enough school spirit," Zemore said. "We (Student Council) want people to enjoy themselves. We're excited about all of them."
The Student Council check-in desks will be located at the main entrance and in the science wing where students who are dropped off or drive enter.
Depending on the percentage of students in each class who participate, students will earn points for the Spirit Cup competition.
The spirit days are as follows:
"Monsters University" Day
Students will wear their favorite college clothing Monday, Oct. 7.
Senior Makayla Nusbaum will represent the University of Michigan in Ann Arbor.
"I'm celebrating by wearing as much Michigan stuff as I have," Nusbaum said.
She sees spirit days as a way to unite students for Homecoming.
Nusbaum said, "It brings us together as a student body and we all get to celebrate a common cause."
Twin Tuesday
Whether you wear the same shirt or go so far as to get the same haircut as your twin, there are many ways to join in on this spirit day's fun.
Mrs. Caitlin Manson, Spanish teacher, will twin with junior Isabella Baltosser.
"We're going to wear Michigan State — because it's beautiful," Manson said, "and we also have red hair."
Seeing the beauty of this year's spirit days, Manson finds their simplicity to be refreshing.
"I really like that they're simple this year, so hopefully more people will participate," Manson said.
Western Wednesday
Students can break out their boots, hats, and belt buckles on Wednesday, Oct. 9.
Senior Jillian Locke plans to wear her cowgirl attire.
"I'm wearing my boots, a hat, and a flannel," Locke said. "I'm going to really get into it."
Locke sees the unique qualities of this year's spirit days as a benefit for school spirit.
"I think making them fun, interesting, and different creates more participation because it's something new that people can get in to," Locke said.
Pixar Thursday
Have you ever wanted to come to school dressed up as your favorite Pixar character? Or have you wanted to style in your favorite Pixar movie shirt?
Students can fly their Pixar fandom proudly on this spirit day.
Senior Jolie Timm will dress up as Boo from "Monsters, Inc."
"It fits our (senior) class theme and it won't be too difficult to find an outfit that works," Timm said.
She said spirit days are enjoyable for students.
Timm said, "I think they get everyone excited for Homecoming and they're fun."
Blue & Gold Friday
A Kearsley tradition, students and staff will rock their Hornet colors on Friday, Oct. 11.
Junior Allie Eible plans to show her Hornet pride by wearing bowling team spirit wear.
"Normally, I just wear my Kearsley bowling stuff and face paint," Eible said.
According to Eible, spirit days contribute to an energetic environment during Homecoming.
"I think it creates more hype for the parade and gets students more involved," Eible said.
About the Contributor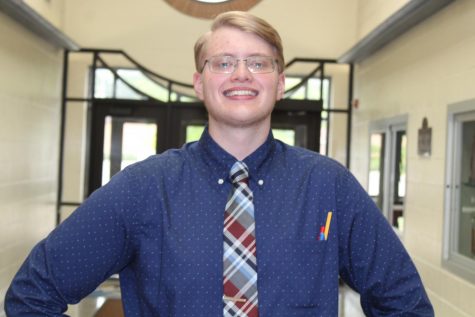 Connor Earegood, Editor in Chief
Class: Senior

Hobbies: I participate in quiz bowl, chess, robotics, Future Problem Solving, and many other "nerd sports."

Future Plans: I plan to...