Colleges visit in October
KHS will celebrate College Application Month in October by hosting many college and technical school visits.
Representatives from 20 colleges around Michigan will talk to juniors and seniors about their lives after high school.
Students can sign up to attend the college visits in the guidance office.
Senior Makayla Nusbaum signed up for visits with Ferris State University, Western Michigan University, Grand Valley State University, and the University of Michigan in Ann Arbor.
"I chose to sign up for these (visits) to see if I could be a potential student there and if I liked the campus," Nusbaum said. "I will get information about financial aid, classes, student life, and how I would fit in on the campus."
Nusbaum hasn't decided what college to attend, but hopes that these visits will help her decide.
"I'm basing my decision on where I clicked the most — the college that I can see myself being the happiest at and thriving at the most," Nusbaum said. "I definitely liked some schools more than others on my tours."
Senior Kay'Leigh Olmstead signed up for visits with Michigan State University, Eastern Michigan University, Ferris State University, and Grand Valley State University. She plans to major in biology.
"I need to major in biology as a prerequisite to become a dermatologist," Olmstead said. "The information (about the campuses) will help because you need to know where your comfort zone lies when it comes to college. The amount of people and the campus layout may make a difference on your experience."
On Tuesday, Oct. 1,  Kettering University, the Douglas J. Aveda Institute, Mott Community College, Northwood University, Oakland University, and Adrian College will visit KHS.
The University of Michigan in Ann Arbor and Saginaw Valley State University meet with students Monday, Oct. 7.
Central Michigan University, Rochester University, and Michigan State University join students Monday, Oct. 21.
UM-Flint, Eastern Michigan University, and Northern Michigan University will visit Tuesday, Oct. 22.
Michigan Technological University and Wayne State University are scheduled for Monday, Oct. 28.
Western Michigan University and Ferris State University will see students Tuesday, Oct. 29.
Lawrence Technological University is the only college scheduled for Wednesday, Oct. 30.
Grand Valley State University will come to KHS on Thursday, Oct. 31.
About the Contributor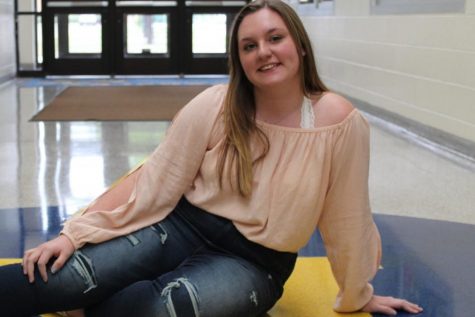 Elizabeth Taylor, Managing Editor
Class: Senior

Hobbies: Horseback riding and bowling.

Future Plans: I plan on attending a university to study optometry.

Favorite Book: "The...