Cheer camp helps cheerleaders reflect, improve skills
Hang on for a minute...we're trying to find some more stories you might like.
The Kearsley cheerleaders are tumbling into the 2019 cheer season with help from cheer camp.
Last season, the camp was held at Alma College in June.
Trial, error, and — most of all — improvement filled that June.
Sophomore Alexis Williams attended the camp, her first experience as a cheerleader.
"I felt excited and nervous at the same time," Williams said. "I knew nothing before but now I know a lot more."
Williams said she enjoyed camp and had a lot of fun with the team.
"It was fun because I had all my friends there with me," Williams said.
The cheerleaders performed stunts, played games, learned new cheers, sharpened gymnastics skills, and bonded as a team throughout the camp.
Williams loved doing stunts with her peers, and she enjoyed bonding with her team.
"The team bonding was a really nice experience with the team," Williams said. "It helped our team get closer with the bonding activities that Core (Athletics) provided."
Sophomore Mariah Morris also enjoyed her improvement in cheer.
Morris said she would describe cheer camp as the best experience ever.
"I got to know people that I never would've thought I'd be friends with," Morris said.
Like Williams, Morris' liked stunting in camp the most.
"It was my first time as a flyer, and it let me trust my stunt group more," Morris said. "It was scary and fun at the same time."
Morris feels that all the time the team spent together made them much closer, which is important for team sports.
The team practiced bonding exercises, ate meals together, and spent all of their time at camp together.
"We really got to know and trust each other more," Morris said. "It definitely benefited the entire team."
While cheer camp is expensive, cheerleaders can fundraise and gain sponsorships to attend the camp.
Morris took the route of finding sponsors, finding enough to cover the entire cost of the camp.
"I most certainly suggest finding sponsors," Morris said. "It's less money for the athletes to pay."
To find sponsors, Morris went into local businesses to recruit supporters
Morris — and many other cheerleaders — looks forward to camp this year, believing it will be just as fun as last year.
"I'll get to bond with the returning members as well as new ones," Morris said.
About the Contributors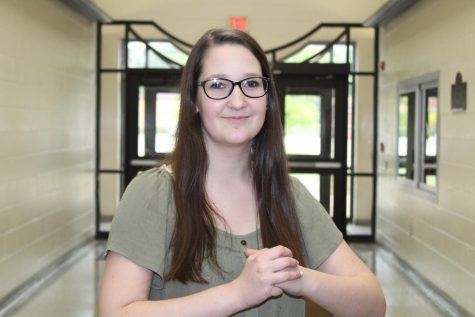 Kaylee DeBlouw, Opinion Editor
Grade: Junior

Hobbies: Hanging out with friends and family

Future Plans: (I plan to) go to law school to become a lawyer.

Favorite Book: "Glass...