Schreiber represents Student Council on the Board
Junior Delanie Schreiber will replace senior Stephanie Lane as the Student Council's representative to the Board of Education.
A member of Student Council for three years, Schreiber is excited to represent the student body.
"It's an amazing opportunity, and I'm so grateful that I was ever considered, let alone given the position," Schreiber said.
Principal Brian Wiskur informed Schreiber that she would represent her fellow students after the senior class graduates.
Schreiber said, "Wiskur told me that he asked people for names (of possible candidates) and mine came up."
She is also vice president of Student Council, which Schreiber feels will help her impact KHS.
"I think it's another opportunity to be really involved in my school, which is really important to me," Schreiber said. "But it also gives me the opportunity to learn even more about leadership roles."
In her free time, Schreiber plays tennis, bowls, and participates in Future Problem Solving. She is also a member of the National Honor Society.
Alumna Elise Pariseau is her role model for how to treat Student Council.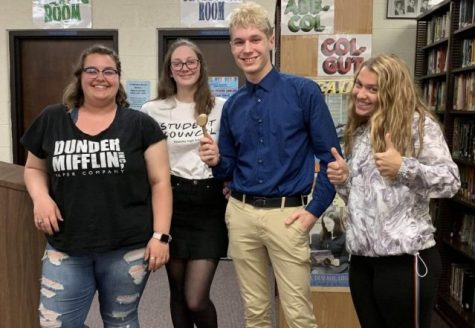 "She (Pariseau) got me into Council and taught me the ropes, and we've stayed really good friends even though she's graduated," Schreiber said. "She was a great Council president and an even better friend."
Work ethic powers much of what Schreiber does.
"My own self-drive motivates me because I want to do something with my life," Schreiber said.
She hopes to make a positive impact on herself and others throughout her life.
"My life goal would probably be to always do things that make not only me happy, but others as well," Schreiber said.
Schreiber joined Student Council because of the service learning opportunities.
"I love working in the community and meeting new people," Schreiber said. "I also really wanted to be more involved in our school. I always wondered how the dances and homecoming things went off so well, so to be a part of that was — and is — awesome."
Mr. Mike Whalen, Student Council adviser, helped her grow as a person and a leader.
"Whalen is an awesome adviser," Schreiber said. "He's charismatic and a definite leader, but he also lets the students run when we can. That allows all of us to grow as leaders and gives us a chance to experience leadership positions we wouldn't have experienced otherwise."
"
I have a lot of patience and I'm always willing to listen. I truly love being in Student Council, so I hope some of that shows in my work."
— Delanie Schreiber, junior
As a leader, she hopes her peers see her as a benefit to Student Council.
"I have a lot of patience, and I'm always willing to listen," Schreiber said. "I truly love being in Student Council, so I hope some of that shows in my work."
As Schreiber's predecessor, Lane feels being selfless is critical for a representative to the Board.
"Being the representative isn't about talking about yourself," Lane said. "It's about informing the Board about what's happening at KHS and representing everyone."
About the Contributor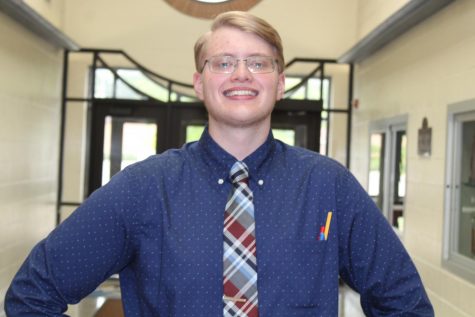 Connor Earegood, Editor in Chief
Class: Senior

Hobbies: I participate in quiz bowl, chess, robotics, Future Problem Solving, and many other "nerd sports."

Future Plans: I plan to...