Band camp will sharpen skills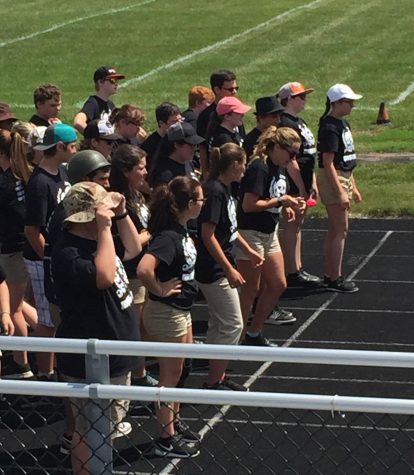 Because the sound of instruments playing in harmony encourages football players to score more points, a good marching band is needed, and it requires teamwork, practice, and good communication just like a football team.
It's almost time to perfect these skills and march to band camp, which takes place from July 29 to Aug. 2 at the high school.
While practicing in the hot sun can be a challenge, the camp is fun, according to freshman Janae Swanson, trumpet player.
"It is very exciting," Swanson said. "It kind of sucks because of the exercise, but it is the best thing that happened to me last summer."
Band camp costs around $180, which covers the cost of food and drinks for the group, as well as expenses throughout the season.
The camp always creates challenges to overcome for young musicians.
Swanson, a rookie, faced a significant learning curve at the last band camp.
"When I was marching, I was supposed to keep up with the other kids," Swanson said. "It was difficult at first, but now I feel like I've improved a lot."
Band camp is mandatory to attend if students want to be involved in marching season.
Swanson said the program helped her understand the proper way to play her instrument.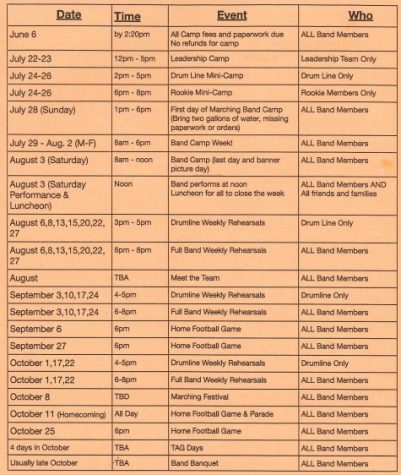 "Going into marching season knowing nothing (about the marching band) was very beneficial," Swanson said. "Band camp was a serious learning curve for being a freshman."
Teamwork and concentration must exist for the whole band to march together as one unit, as each member depends on the others to know their steps.
"Band camp is a week of learning our sets and what part of music for our show," Swanson said. "It takes time and effort to get right."
At the end of the week, the band celebrates the start of the season performing fun activities.
The purpose of band camp is to learn marching music before school starts, allowing the musicians to practice until homecoming week starts, which is the group's big test.
Marching season tests musicians' abilities to keep up with the beat, remember their steps, and play different songs in order with the correct notes.
Swanson said that with the right mindset and determination to ace her performance, the anxiety of ruining her routine fades.
"Marching, in general, is difficult because of the amount of stress we are put through to make sure everything is ready and great," Swanson said. "But if you practice and pay attention, the stress of not being good will fade."
This year's show is Michael Jackson themed, featuring songs like "Thriller," "Black or White," "Beat It," and "I Want You Back."
This story was updated Wednesday, June 5, to correct the cost of band camp.
About the Contributor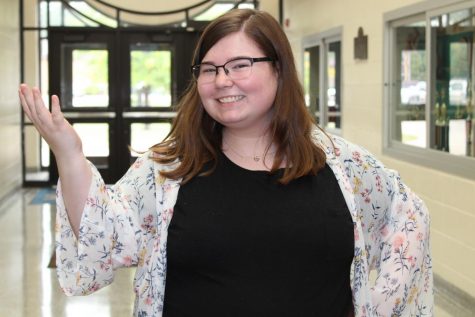 Hope Wills, Special Projects Editor
Class: Junior

Hobbies: Reading, writing, and hanging out with friends and family.

Future Plans: After high school, I plan to attend community...