Future Problem Solvers competes at State Bowl
Hang on for a minute...we're trying to find some more stories you might like.
The Future Problem Solving team competed at the Michigan Future Problem Solving Program's State Bowl on Saturday, March 23.
FPS is a group of students who test their problem-solving skills against other high school students.
They are given a topic and a future scenario in which possible problems may arise, and they're supposed to identify them and find a solution.
Teams of three or four students write a booklet with six steps: possible problems, underlying problem, solutions, criteria, criteria grid, and action plan.
Some members also submit slogans, cover designs, and scenarios.
The slogans, cover designs, and scenarios are done ahead of time and awards are given out for them accordingly.
For booklet writing, teams are allotted two hours.
Whichever team earns the most points for each category gets to move on and go to the next level of competition.
Three teams represented KHS.
Many students were given awards, and some even received invitations to the International Competition at the University of Massachusetts in Amherst, Mass.
Junior Jolie Timm received an invitation to the International Competition for individual booklet writing and community problem-solving.
Timm feels the team's practice and effort was all worth it.
"I think everyone has worked hard all year, and it definitely paid off," Timm said.
Timm is excited for the International Competition and has faith in the Community Problem-Solving team.
"The CmPS team has put a lot of time and dedication into our project, and we have some time to make improvements that were recommended at the state competition," Timm said.
For its project, the team wrote a book called "ABCs of School Safety," which earned a spot at the International Competition.
The road to this success wasn't easy.
The Community Problem-Solving team had to submit a six-page report and a six-page addendum in order to compete at the State Bowl.
Another student who competed at the State Bowl was sophomore Allison Robbins.
Robbins earned third place for her slogan.
She feels that her team's effort and teamwork helped them to complete their booklet.
"We laughed a lot, and our ways of thinking complemented each other really well," Robbins said.

About the Writer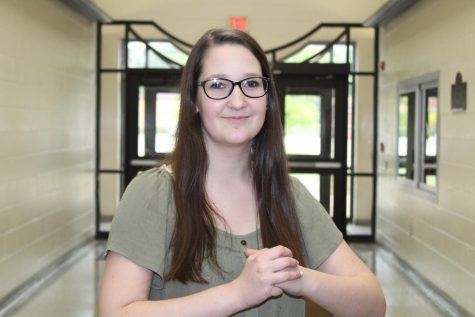 Kaylee DeBlouw, Opinion Editor
Grade: Junior

Hobbies: Hanging out with friends and family

Future Plans: (I plan to) go to law school to become a lawyer.

Favorite Book: "Glass...