Wrestling wins fourth straight district title
Brown wins district title, Ruffin claims league title
The wrestling team participated in MHSAA district competition at home on Wednesday, Feb. 6, beating Powers Catholic 54-18 in the semifinal and sweeping North Branch 72-0 to win the district championship.
This is Kearsley's fourth district title in a row.
Kearsley will participate in the regional tournament, battling ninth-ranked St. Johns at Gaylord on Wednesday Feb. 13.
Junior LaRon Ruffin was happy with the team's district championship.
"I feel great even though it wasn't what I expected," Ruffin said. "It gave our newer kids something to be proud of and our veteran guys another opportunity to take care of business."
Ruffin believes there will be another district title next year.
"With the way we are working in the off season and working with the incoming freshmen, you can expect another district title," Ruffin said.
MHSAA Individual District
Junior John Brown won the MHSAA individual district title at 171 pounds.
Brown finished the day 36-7 after defeating Gaylord's Quinn Schultz 6-0 in the final Saturday, Feb. 9, at Gaylord.
Two other Hornets finished as runners-up at the individual district.
Junior Trenton Digenova (36-7) placed second at the 145-pound weight class, while Ruffin (37-4) finished second at 125 pounds.
All three wrestlers qualified for individual regional competition at Gaylord Saturday, Feb. 16.
Flint Metro League Championship
Kearsley finished league competition with five Hornets earning All-League honors on Feb. 2.
Ruffin took first-team honors by winning a league title at 125 pounds. He pinned Fenton's Luke Thronton in 4:14 for the victory.
Three Hornets made second-team All-League as runners-up in the tournament: sophomore Jason Judd (112), DiGenovoa (145), and Brown (171).
Third-team honors went to sophomore Rodney Richards for placing third in the 135-pound weight class.
After finishing the season 3-5, the Hornets wrestled well at the league championship, taking third place and finishing tied for fourth in the league with Fenton.
Holly won the league tournament and the Metro league title overall, while Clio was second at the league tournament and finished tied for second with Linden overall.
About the Contributor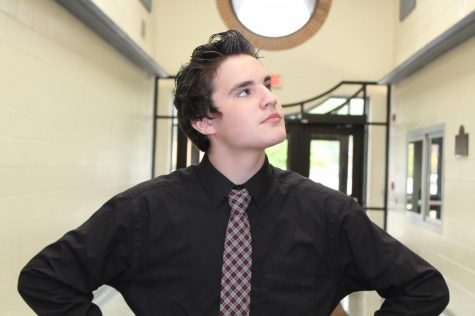 Jonathen Hart, Managing Editor
Class: Junior

Hobbies: Studying law and politics

Future Plans: I plan to become President of the United States of America.

Favorite Book: "Barack...