Boys bowling wins two, loses one during snow week
While heavy snow and frigid temperatures kept students home for an entire week, the boys bowling team beat Brandon and Holly, fell to Flushing, and competed in the Carman-Ainsworth Singles Tournament.
With a record of 11-3, the team is third in the Metro League.
The Hornets will swarm against Holly on Wednesday, Feb. 6, at Grand Blanc Lanes.
Carman-Ainsworth Singles Tournament
The team looked to turn things around on Sunday, Feb. 3.
In the tournament, three bowlers made the elimination rounds, including senior Kyle Langworthy, freshman Gage Slagor, and junior Ethan Burke.
Burke bowled an 824 and earned fourth on the All-Tournament team, while Langworthy took 13th with a 764.
Slagor squeezed into the eliminations with a total pinfall of 722.
While Slagor was eliminated early, Langworthy made the round of eight and Burke made the round of four.
Flushing
The Raiders swatted the Hornets 23-7 on Saturday, Feb. 2.
Splitting the Bakers, Kearsley bowled games of 191 and 176 to Flushing's 162 and 233.
The Raiders took both sets of individuals by margins of 1,012-970 and 1,009-1,002.
The final pinfall went to Flushing 2,021-1,972.
Slagor led the Hornets with games of 228 and 203, while junior Lawson Boshaw smashed his way to games of 204 and 203.
Langworthy also stepped up with performances of 209 and 202.
Brandon
The Hornets faced the Blackhawks on Saturday, Jan. 26, winning 18-12.
The teams split the Baker games with scores of 169 and 234 for Kearsley to 181 and 145 for Brandon.
The Blackhawks soared over the Hornets in the first individual games 1,054-968, but the Hornets buzzed back in the second set, dominating 1,084-845.
The Hornets also captured the total pinfall 2,052-1,899.
Top bowlers were senior Nathan Maxwell with games of 231 and 231 and Slagor with scores of 236 and 213.
Holly
On Saturday, Jan. 26, the Hornets kept their momentum by stinging the Bronchos 19-11.
Kearsley took an early lead by winning both Bakers, bowling 199 and 208 to Holly's 168 and 160.
The Hornets outpaced the Bronchos in the first set of individual games 953-899 but lost the second set 903-833.
With a sum of 1,802 to the Hornets' 1,786, the Bronchos also won the final pinfall.
Slagor and Maxwell continued to lead their team, with Maxwell rolling games of 203 and 189 and Slagor earning marks of 206 and 158.
Boshaw also performed well with games of 193 and 171.
About the Contributor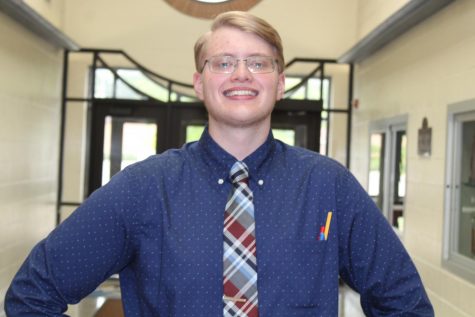 Connor Earegood, Editor in Chief
Class: Senior

Hobbies: I participate in quiz bowl, chess, robotics, Future Problem Solving, and many other "nerd sports."

Future Plans: I plan to...