Singing plays a key role in Williams' life
Hang on for a minute...we're trying to find some more stories you might like.
"Once I stepped up on the stage and started singing, I knew right there I wanted to continue singing," Williams said.
Sophomore Alexis Williams recalled one of her favorite memories from her first choir concert.
Her best friend, sophomore Allissa Monica, was in the crowd cheering her on.
"Alexis has a great singing voice, and she did amazing at the concert," Monica said.
Even with the help of friends and family, Williams went through hardships finding her voice while singing.
"I couldn't get my voice to the right tone," Williams said. "I was getting extremely discouraged."
Williams was insecure about her voice during this time, but with the help of her family, she got through it.
Her family is always encouraging her to do the best in her career.
"They always encourage me," Williams said. "They tell me to follow my heart and my heart loves singing."
Williams' mother, Mrs. Julie Williams, encourages her to keep singing.
"My mom has always told me that I have a voice of an angel," Williams said.
Williams also looks up to her father, Mr. Ricky Williams, because he will always be there for her.
"He told me that when I do something I love my eyes light up," Williams said. "When I do choir, my eyes light up."
She is proud to sing in the A Capella choir.
"My biggest achievement is singing in A Capella, the second-most advanced choir group," Williams said.
Another one of Williams' closest friends, sophomore Dillian Walker, sees potential in her singing.
"She's a great singer," Walker said. "She has great potential and definitely a chance (to reach) fame."
One of Williams' favorite teachers, Mrs. Renee Kotzian, choir teacher, enjoys having Williams in her class.
"She is an awesome young lady," Kotzian said. "She is a joy having in my class."
About the Contributors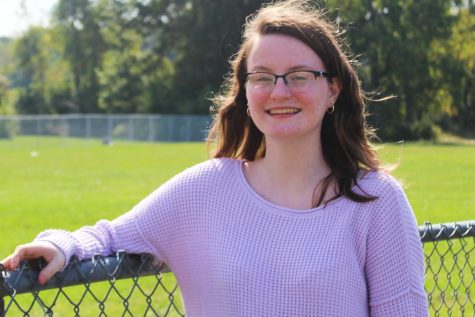 Allison Skinner, Reporter

Birthday: Sept. 16, 2003
Hobbies/Interest: I like to sing and I enjoy cheering.
Favorite Quote: "Practice makes perfect." - John Adams
Favorite...