Motivators push Dawan to succeed
Hang on for a minute...we're trying to find some more stories you might like.
In the classroom and on the court, senior Saif Dawan strives through his creativity and determination.
Born into a Muslim household, Dawan uses his religion and interests to guide his life and artwork.
Before Dawan was 4 years old, he and his family moved to Egypt and back to the United States twice before officially settling in Michigan.
He remembers only a few things about Egypt, like the house his family lived in and the sand.
Dawan lives with his parents, Mr. and Mrs. Marzuq and Radiyyah Dawan.
In his early years, Dawan was home schooled by his mother until the third grade before attending a private school.
Once Dawan came to Kearsley, he became a star basketball player by making the varsity team as a freshman.
The motivation in Dawan's life comes from his religion and parents.
"My religion has never steered me in the wrong direction," Dawan said. "I always have clear guidelines to follow."
Along with the motivation as a practicing Muslim, Dawan finds ways to expand his passions in creative ways.
His passion for art and mechanical engineering comes from his interest in how things are built and how they work.
All art forms have intrigued him, but his favorites are drawing and painting.
In his art, Dawan uses his interests as a basis for the pieces he creates.
"I usually paint on shoes and canvases or draw out of paper," Dawan said. "I'm interested in sports and exotic cars."
Once he finishes a piece, Dawan feels good about himself and what he has created.
Senior Jamarius Harris believes Dawan will use his qualities of leadership and communication to lead him in his life.
"His interests build key skills that he will use later in life," Harris said.
After Dawan graduates this June, he plans on attending Kettering University to study mechanical engineering.
"Mechanical engineering puts a lot of my interests into one category," Dawan said. "I want to do something that I love for the rest of my life, and engineering is definitely it."
Becoming an engineer would allow Dawan to live up to one of his lifelong dreams of living in a foreign country.
"One of my goals in life is to establish myself in a Muslim country," Dawan said. "I really see myself moving to Saudi Arabia."
One of the biggest inspirations in his life is his parents.
Dawan has always watched his parents' work ethic and communication with each other.
"My parents have accomplished so much that I've made a goal to accomplish what they have and more," Dawan said.
One of Dawan's best friends, senior Marshall Judd, views Dawan as a committed person to anything that crosses his path.
"Saif will end up with a successful life," Judd said. "He is very outspoken and passionate about his beliefs and passions."
After high school, Dawan will continue to strive and live up to the expectations set in place.
Dawan has set his goals for his life higher than what most teenagers do.
"No matter where I end up in life, I will never stop until I know that I have lived to my greatest potential," Dawan said.
About the Contributors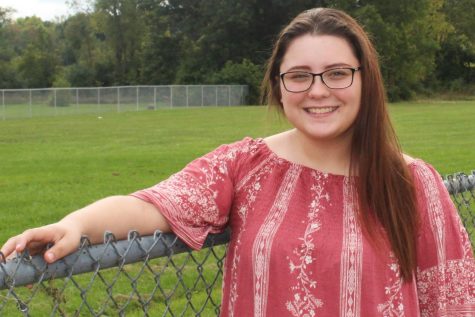 Alexis Roof, Reporter

Birthday: Aug. 30, 2001
Hobbies/Interest: I enjoy bowling, reading, hanging out with friends, and watching Netflix.
Favorite Quote: "Being...