Hornets swarm Trojans in lopsided gridiron victory
Hang on for a minute...we're trying to find some more stories you might like.
After its narrow loss to Swartz Creek on Homecoming, the football team vented by pummeling Owosso 54-28 on Friday, Oct. 12.
The Trojans struck first on a 2-yard rush, taking a 7-0 lead at 6:14 of the first quarter.
Answering for the Hornets, sophomore Braylon Silvas aired out a 50-yard pass to junior Ethan Livingston to cut the deficit to one point with 1:52 left in the quarter.
Silvas then lobbed a 25-yard pass to Livingston, putting Kearsley up by five going into the second quarter.
Sprinting 55 yards downfield, Silvas scored his third all-purpose touchdown of the night in the second, capping of the play with a pass to sophomore Jace Chapman for the two-point conversion.
Owosso scored another rushing touchdown to cut the Hornet lead to six, but Silvas broke free of the Trojan defense with a 92-yard run. The team failed to convert for two points.
As the first half wound down, the Hornets fired up, with Chapman catching a 5-yard pass for his team's fifth end zone finish with only 39 seconds left before halftime.
Just when it seemed things couldn't go any worse for the Trojans, Livingston started the second half by running a 95-yard kick return to pay dirt, putting Kearsley up 26 points.
Junior Jaylon Burchfield pounded across the goal line for a 2-yard rushing touchdown a few minutes later. Livingston nailed the place kick to extend the Hornets' margin to 33.
With another rushing touchdown, Owosso cut the lead slightly, but Silvas responded with a 5-yard rushing score, while Livingston put another kick through the uprights.
Owosso went on to score a fourth and final rushing touchdown but fell victim to Kearsley's potent offensive duo of Silvas and Livingston, losing 54-28.
Kearsley dominated with the ball, gaining 543 yards of offense compared to just 297 for their hosts.
Silvas went 13-for-16 passing, good for 218 yards, while running the ball for another 236.
Livingston grabbed four passes for 125 yards.
One key to the victory was Kearsley's recovery of five fumbles from the Trojans.
Despite having the ball for only 18 minutes, the Hornets used their speed and efficiency to dominate the game.
It also helped the team to have a quarterback as mobile as Silvas, who was the team's undoubted offensive catalyst.
Going into their last week of play, the team is 2-5 in the Metro League, 3-5 overall, and will look to win on Friday's senior night against the Flushing Raiders, which would spoil Flushing's plan to claim a league title with a victory.
About the Contributor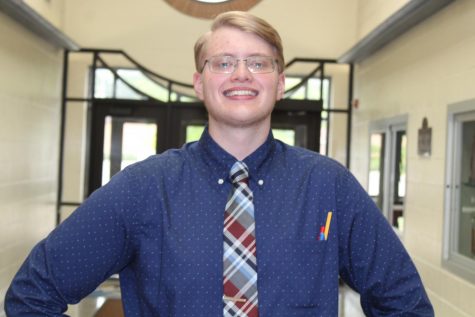 Connor Earegood, Editor in Chief
Class: Senior

Hobbies: I participate in quiz bowl, chess, robotics, Future Problem Solving, and many other "nerd sports."

Future Plans: I plan to...