Despite popular opinion, pineapple does belong on a pizza
When you think of a pizza, you probably think of the typical pepperoni- and cheese-topped variety that is served everywhere from schools to offices, from local joints to national franchises.
However, one topping that people can't seem to agree on is pineapple.
The tropical fruit has often been put on so-called Hawaiian varieties of pizza alongside pieces of salty ham.
Despite its name, Hawaiian pizza was actually a Canadian innovation from 1962, made by Sam Panopoulos in Chatham, Ontario.
It is ordered most often in Oregon, Maine, and California, respectively.
However, many people disagree, saying pineapple belongs on pizza as much as snow belongs on a Florida beach.
Memes, which are humorous images spread virally on the internet, have featured the controversial item, with both sides of the argument poking fun at the logic of the other side.
I intend to put this question to rest: Pineapple does belong on a pizza.
With its sweet juices, pineapple creates a sweet and salty flavor dynamic that accents most pork-based items, such as ham, bacon, sausage, or pepperoni.
Just like chocolate-covered pretzels, the pineapple creates an interesting taste as you sink your teeth into a delicious slice.
Shaving calories off of your Italian indulgence is another benefit of using pineapple as a topping.
Pineapple slices have a caloric content of about 50 calories per 100 grams. Pepperoni has around 500 calories per 100 grams, 100 times that of its counterpart.
For junior Vincent Zamora, the temperature of the topping determines its belonging.
"I personally think it tastes good, but it has to be made right," Zamora said. "It's gross if it's cold."
To meet the demands of some customers, most national pizza chains, and many local establishments, carry the tropical treat.
According to "Slice," a pizza-focused app, surveys show 54 percent of Americans believe pineapple does not belong on a pizza.
But just because many dislike the topping doesn't mean it shouldn't be consumed.
After all, the very use of the topping shows how culturally syncretic our society is, how willing we are to blend the many cultures of our society into one item: a tropical fruit is put on an Italian-inspired dish, invented by a Canadian, and served to Americans.
Pineapple belongs on pizza, no matter the outrage by many people.
View Comments (2)
About the Contributor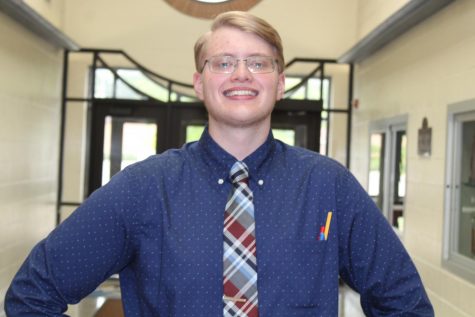 Connor Earegood, Editor in Chief
Class: Senior

Hobbies: I participate in quiz bowl, chess, robotics, Future Problem Solving, and many other "nerd sports."

Future Plans: I plan to...