Bishoff earns All-League in golf, Smith named honorable mention
Hang on for a minute...we're trying to find some more stories you might like.
Senior Emma Bishoff led the golf team at the Metro League Postseason Tournament on Wednesday, Sept. 27, at Fenton Farms.
The Hornets finished sixth place, with a score of 449.
Fenton won the tournament shooting a 335, while the runner-up was Swartz Creek with a 394. Holly finished third, shooting a 397.
Senior Bishoff was named to the first-team All-League team, while senior Brooklynn Smith earned honorable mention.
In the 18-hole tournament, Bishoff shot a 90.
As Kearsley's No. 2, Smith tallied a 116.
Seniors Chiny Miles and Halle Parish shot a 121 and 122, respectively.
Junior  Trianna Shepherd ended with a 133.
"
Overall, the girls performed better than we expected as a team."
— Mr. Andy Nester, golf coach
Kearsley finished with a record of 4-4, good for sixth in the Metro League.
Coach Andy Nester felt the team did its best over the season.
"Overall, the girls performed better than we expected as a team," Nester said.
As for next season, Nester is concerned at the level of participation in golf of Kearsley students.
"Any girls who want to come out for golf next season, come out for varsity or junior varsity," Nester said.
Swartz Creek
Swartz Creek beat the Hornets on Wednesday, Sept. 26, with a final score of 191-217. This was a make-up match and it used the front nine scores from each team during the postseason tournament for team scoring.
Bishoff led the team with a 46.
Smith finished with a 54, Parish shot a 58, and Miles capped of the scorers with a 59.
Owosso
Kearsley visited the Owosso Country Club to take on the Trojans Tuesday, Sept. 25, winning a narrow 221-224 contest.
The top scoring team members for Kearsley were Bishoff with 47 strokes and Smith with a personal best of 49.
Parish shot a 62, and Miles was one shot behind with a 63.
Flushing
The Hornets played Flushing at the Flint Elks Country Club on Monday, Sept. 24, tying at 217 a piece.
In golf, when scores end at a tie, the fifth scorer breaks the tie.
Flushing ended up winning the match based on its fifth scorer because Kearsley didn't have a fifth golfer.
Bishoff led Kearsley with a 46.
Smith shot a 53 and Miles tallied a 55.
Kearsley's No. 4 golfer, Shepherd, finished with 63 strokes.

About the Writer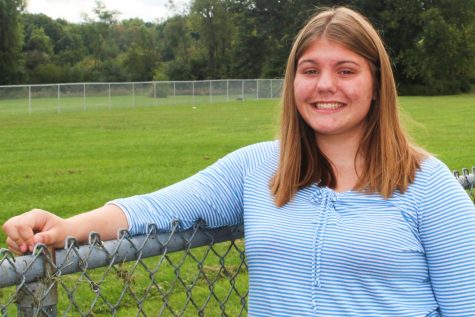 Haley Peters, Reporter

Birthday: Dec. 28, 2002
Hobbies/Interests: Student Council, Pokémon GO.
Favorite Quote: "Let no man pull you low enough to hate him." -...