Skyelar Herriman finds expression, happiness important
Hang on for a minute...we're trying to find some more stories you might like.
Sophomore Skyelar Herriman strives to express herself in all situations.
She takes pride in her academic success and is a member of the Student Council and the K-Motion dance team.
She likes dance because it allows her to be herself.
"I get to express myself in a different way," Herriman said. "I go to a completely different world where all my stress disappears."
Herriman also participates in Kearsley's marching, concert, and jazz bands.
She has a bubbly personality and is friendly and outgoing.
Her favorite teacher is Mr. Mike Simms, who teaches physical science.
"He is awesome," Herriman said. "Whenever I didn't understand something last year, he would help me understand it."
Simms enjoyed having her in his class.
"Skyelar was good at asking questions if she didn't understand something or wanted more clarification," Simms said. "She had an intrinsic drive to get the right answers and she cared about getting things correct."
She enjoys listening to music and watching television. Her favorite show is "Grey's Anatomy."
She likes how the show has ties to the medical field, where she would like to work.
"It's very good," Herriman said. "It's not realistic, but I want to be a doctor."
She also likes the movie "The Giver." She likes the film's many themes.
"I think it's interesting to see what we can do to change who we are," Herriman said. "I like the story, the lesson."
Herriman also does photography in her spare time.
She likes the creativity of photography.
"It's a different way to be expressive," Herriman said. "I like doing portraits and making people feel they are the best versions of themselves."
Herriman also finds music expressive. She is a dedicated fan of many pop and rap artists.
"I love Ed Sheeran and Sam Smith," Herriman said. "I feel their music. They're so good. I really like Eminem too."
Herriman wants to be an orthopedic surgeon.
"Since I am always in pain and have already had knee surgery, I know a lot about it," Herriman said. "I want to help others feel better."
She enjoys spending time with her many pets.
"I have a dog named Zipper, a dog named Lulu, a turtle, and a bearded dragon named Phoenix," Herriman said.
She also enjoys spending time with her friends, including sophomores Kamryn Palka, Cole Zemore, Gabe Mosher, and her boyfriend Eddie Harris, a junior.
Palka, who has known Herriman since the sixth grade, likes how she is a loyal and supportive friend.
"She's very kind and she's always there to talk to and to listen to all of my problems," Palka said.
Sophomore Cole Zemore agrees.
"She's nice and is always there for me to talk to," Zemore said. "She's a good friend."
Family also matters to Herriman. She enjoys spending time with her parents and brother, Evan.
"They're supportive and funny," Herriman said. "They come to all of my games."
Herriman believes that negative influences can have a dramatic effect on a person's attitude.
"Surrounding myself with people who make me happy is important to me because if you're with people who make you sad, you won't feel good," Herriman said.
About the Contributors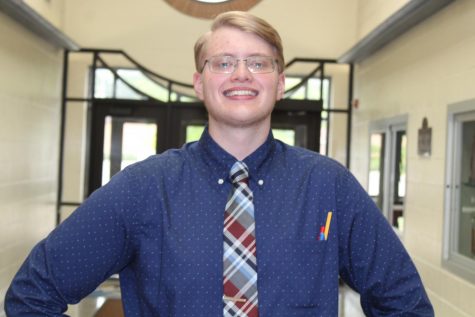 Connor Earegood, Editor in Chief
Class: Senior

Hobbies: I participate in quiz bowl, chess, robotics, Future Problem Solving, and many other "nerd sports."

Future Plans: I plan to...