Girls swim places sixth at league final
Hang on for a minute...we're trying to find some more stories you might like.
The 200-yard medley relay and the 400 freestyle relay each placed fourth in two events, leading the swim team to sixth place in the Metro League swimming and diving championship.
Fenton took first place in its own pool with 751.5 points, and Owosso followed in second place with a total of 366 points.
The Hornets scored 129 points.
The three-day meet started on Thursday, Nov. 2, and concluded Saturday, Nov. 4.
The 200 medley relay team, consisting of Amelia Boggs, Claire Ouellette, Maddie Raysin, and Lily Brown, placed fourth in their event with a time of 2:23.15.
Ouellette, sophomore, wishes her team was larger and believes the Hornets could have done better if they had more athletes.
"I think we did good," Ouellette said. "We just didn't have the numbers."
A second relay team also took fourth place. Laura Kendrick, Alexis Echols, Samantha Timm,  and Hailey Barrington combined in the 400 free relay to swim a time of 5:27.21.
In addition, the 200 free relay team placed fifth in their event. The Hornets swam it in 1:59.91. The team is made up of Boggs, Raysin, Ouellette, and Brown.
In individual events, two Hornets placed in the 50 free. Brown, sophomore, came in 10th with a time of 28.38, and Ouellette finished 14th with a time of 28.92.
In diving, Raysin, a junior, took seventh, scoring 262.85 points, while Boggs, sophomore, placed 15th with 188.90 points.
Raysin placed 12th in the 100 butterfly with a time of 1:32.11.
For the 100 free, Ouellette swam a 1:05.03 for 12th place, and Brown was 13th in 1:06.52.
Senior Lucia Pompurova took 14th in the 100 breaststroke with a time of 1:31.82.
Raysin believes the team bonded well and performed at its peak.
"I think we did pretty well for us. We got a lot of PR's (personal records), and that is all that matters," Raysin said. "Just having fun and hanging with the team is great."

About the Writer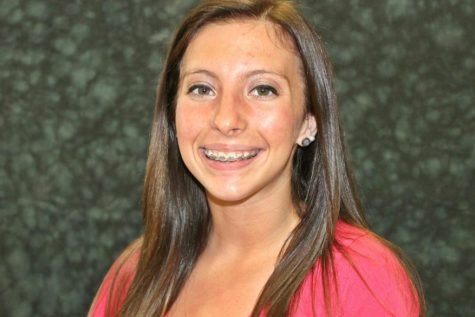 Sarah Walker, Reporter

Birthday: March 31, 2000
Extracurricular activities: Competitive dance
Hobbies: Reading
Plans after high school: Attend a local college to...