Celebrate Christmas with these 10 must-haves
Hang on for a minute...we're trying to find some more stories you might like.
Christmas has many elements that are included within the celebration. Here are 10 Christmas must-haves for this holiday season.
Candy canes
Nothing is like the candy canes this time of year.
From putting mini peppermint canes into hot chocolate to Jelly Belly flavored candy canes. There is a candy cane for everyone.
When it comes to candy canes, junior Lauren Pariseau is sold.
"I love candy canes," Pariseau said.
Ugly sweaters
When trying to pick what to wear for your family Christmas party, an ugly sweater is the best choice.
There are many different patterns that you will notice. You can buy a sweater or you can get creative and make your own.
Sophomore Abby Bellmer thinks that ugly sweaters are a cute way to express the Christmas spirit.
"I love ugly sweaters," Bellmer said. "I love seeing all of the different designs that people have."
Christmas cookies
Christmas cookies are the way to go. There are enough kinds of cookies for everyone to enjoy.
Whether you are making them with your family or your significant other, nothing beats the mess you make.
When there is flour all over the kitchen and holiday tunes are playing, the Christmas spirit is high inside your home. Christmas just is not the same without Christmas cookies.
Gingerbread houses
You and your family may not get along all of the time, but making gingerbread houses may bring some joy into your family.
Pariseau said that this is a messy thing to do, but it is a lot of fun.
"My family and I had a lot of fun, but it took forever," Pariseau said. "It's definitely worth the time and the mess."
Christmas trees
Christmas is not Christmas without the traditional Christmas tree. It does not matter whether you cut it yourself, buy a pre-cut tree from a store, or if it's fake.
These trees are meant for decorating as a family and hiding the presents for loved ones under them.
Mistletoe
Got a significant other? This is the must-have for you.
Mistletoe is supposed to bring deep romance or everlasting friendship into the lives of those under the mistletoe.
Bellmer finds a mistletoe as a fun tradition that is shared.
"I think that a mistletoe is a cute little Christmas tradition," Bellmer said.
Stockings
Everyone's stockings are different. But many are filled with the same things.
Stockings are a great way to receive small gifts like candy and gift cards.
Pariseau receives most of her smaller gifts in her stocking.
"I get mostly socks and candy in mine every year," Pariseau said.
Christmas movie marathons
Nothing is like curling up with warm fuzzy blankets and watching Christmas movies that have been watched for many years.
Television channels like Freeform, Hallmark, and Lifetime play marathons that include this holiday's most popular movies. Movies like "The Polar Express," "Elf," and "The Nightmare Before Christmas" are among the many that are shown.
Eggnog
At a family Christmas party it is expected that there will be eggnog.
Even though eggnog is not for everyone, many people still enjoy it.
This sweet drink is among the many traditional foods and beverages found in this holiday season. If you have not tried it, try it at least once in your life.
Christmas music
There are many different forms of Christmas music, including Christmas carols, Christmas-themed albums by some of the best music artists, and cultural stories told by the music.
Christmas music is a way to get into the holiday spirit. Most of these songs catch listeners' attention making it easy to listen to them with your family.
Put the music on while you are making the gingerbread or baking cookies to help you enjoy the activities even more.
These Christmas must-haves are a way to make your Christmas an enjoyable time with your family and friends.

About the Contributor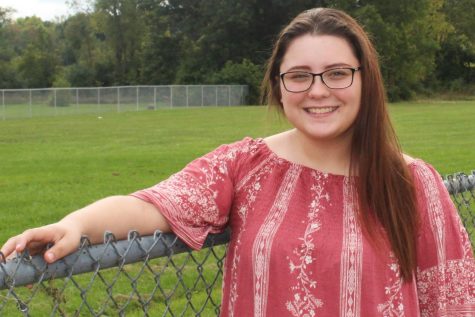 Alexis Roof, Reporter

Birthday: Aug. 30, 2001
Hobbies/Interest: I enjoy bowling, reading, hanging out with friends, and watching Netflix.
Favorite Quote: "Being...