Prep hockey participation is declining in Michigan
Hang on for a minute...we're trying to find some more stories you might like.
Hockey has gained popularity in the United States but has been losing popularity in Michigan.
Sophomore Trevor Keller, a Kearsley player for the United hockey team, thinks the sport is losing players in Michigan.
"People have to pay for it (playing hockey)," Keller said. "And they don't have the income to do it."
Many prep teams are starting to combine, including United, which includes members from Kearsley, Brandon, Holly, and Lake Fenton high schools.
This has been a popular trend for many schools throughout the state of Michigan.
According to the MHSAA, 266 high schools are involved in hockey and 167 of them, or 63 percent,  participate in a cooperative program, which are programs in which multiple schools team up to compete if there is not enough interest in the sport at the individual schools.
This is startling because in 2011-12, only 27.5 percent of the hockey teams in Michigan were cooperative programs. Therefore, the number of cooperative programs in hockey has increased 35 percent in a few years, showing that the number of high school hockey players has declined.
"
I don't believe that hockey is losing its popularity. What I do see, from my perspective, is that hockey is an expensive sport to play."
— Mr. Cody Inglis, MHSAA assistant director
Mr. Cody Inglis, an assistant director at the MHSAA, thinks the rising cost of hockey is directly related to the number of players.
"I don't believe that hockey is losing its popularity. What I do see, from my perspective, is that hockey is an expensive sport to play," Inglis said. "Because of the recession and tough economic times that Michigan and the USA was going through in 2007-08, kids that normally would start to play hockey did not start playing because of the money needed to play and because families did not have disposable income to spend on hockey."
Many experts agree with Inglis and cite the cost of decent equipment and registration to a team or organization as a reason for many youngsters not to play.
It can cost more than $1,700 to play hockey in just one season, and travel costs can double that.
Much of this cost is due to players having to buy multiple sticks or pairs of skates, as well as other equipment.
Even though costs have risen, nationally, the sport has seen participation increase over a decade.
USA Hockey, an organization that helps manage and promote youth hockey, has gained roughly 10,000 players in each of the last four years.
From the 2015-16 season, USA Hockey has reported a record 622,833 individuals involved nationally in the sport, compared to 527,269 individuals in 2005-06.
In addition, there are 2,500 amateur hockey teams in Michigan with over 50,000 players.
Like Inglis, Athletics Director Paul Gaudard thinks the high expense of playing hockey has driven away many people who would have played hockey. He thinks the recession of 2008 was a cause of this.
"I am hopeful that we can sustain our team, but it is a challenge," Gaudard said.
For one of Kearsley's players, Keller hopes participation can rise again. But he thinks Kearsley does better as part of a cooperative team.
"It would be cool if Kearsley could have their own team," Keller said. "Right now, it (the team) does better."
About the Contributors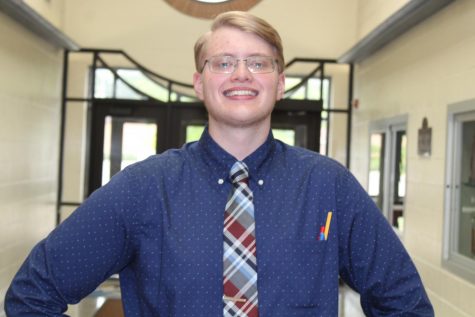 Connor Earegood, Editor in Chief
Class: Senior

Hobbies: I participate in quiz bowl, chess, robotics, Future Problem Solving, and many other "nerd sports."

Future Plans: I plan to...