"Procrastination Is Just An Illusion"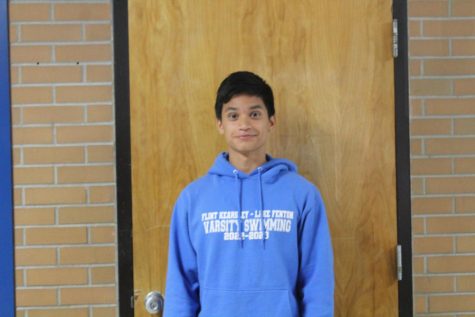 Sometimes the best of people do not even know how much of an influence they really are until diving deep into their personal life and most honorable achievements.
Cole Fernandez, freshmen, is one of them, being a humble soul like Fernandez did not come easy at first, as he had to work hard for his positive reputation and has yet to maintain this reputation throughout his high school years, however this won't be a challenge for him.
For Fernandez, sports is something that is a hobby and pastime, he was quoted saying "I do calisthenics, and I see it as a fun activity to do in [my] free time"
Fernandez has participated in a variety of sports that include: Bowling, Swimming, Power lifting, Cross-Country and Track.
Still, he continues to participate in sports, however Fernandez didn't always participate in sports.
When Fernandez lived in Texas previously before coming to Michigan he did not participate in any sports and did not want to pursue sports. 
He stated "I never once participated in sports, when I was at Texas, but I was good at everything, people tried to recruit me but I did not accept the invite"
When asked why he did not participate in sports then Fernandez simply responded "I did not like competitiveness"
However, what changed Fernandez's mind was the environment, "I joined sports because it's the city, [there are] not many things to do, people are more rude and depressed" this choice seemed to be setting the right path for Fernandez.
Although, at first sports weren't of interest for Fernandez. So instead of doing sports, Fernandez instead of doing sports he would work out as working out is a big part of his daily life, he is always trying to improve his skills. 
"Right after school, I'd work out and when it's the weekend I go outside and run around the forest, which is about three miles." Also, for fun Fernandez would combine different chemicals just to simply see how they react which is exciting for him as he enjoys reactions and science. 
Moving from Texas was a big move for Fernandez, "Moving was a big step for me I miss my friends from Texas, but I think that moving was good because it made a big impact on my life, and there are better chances for education and more chances for me to make an impact and do something with my life"  
However, there is no passion behind the work that Fernandez does, although he does say his family is a big motivation, they drive him to work hard and do what he does daily. 
"On the weekend I try to do pull-ups because they are challenging, and not a lot of people can do them" Fernandez remarked. 
Fernandez's main goal in life is to reach his specific physic, " I have a reason for doing exercise daily because I have a specific goal for myself that I have set up for myself" reaching this goal proves to be challenging which is why doing these daily exercises is a big part of his life. 
 An interesting thing about Fernandez is that he likes to garden and likes to be outside due to the nice weather. Fernandez plans on going to college for engineering because he finds it interesting and wants to pursue that career as he enjoys physical activity and working hands-on. 
Fernandez's greatest memory was going to Six Flags with his brother, Colton Fernandez. "I enjoyed going there for the thrill of the roller coasters and it was something interesting that I have never done." 
However it is sports that Fernandez really finds an interest in due to meeting a lot of new friends. "Swim has probably the best memories, I made a lot of new friends and I found swimming interesting because it was something that I had never done before, I just ran."  
Track was also a big part of Fernandez's life and one of his fondest memories,  as he had come very close to beating the Kearsley record for the Freshman class this year.
However, last year while at Armstrong he felt that was the highlight of track he stated. "Nobody could out-run me, however this year I've had a few people that could out-run me" Fernandez stated. 
While in the long run it may appear that he has made many achievements. However there are many more to make still and there are still many opportunities for new adventure and new memories. "There is always room to grow" Fernandez stated cheerfully.