Kelly Jolly Lifts His Way to the Top
Senior Kelly Jolly has won the state championship for Kearsley High School's weight lifting, after lifting 560 pounds doing a dead lift. He placed first out of over 250 competitors he went against.
Coach Darren Conrad is someone who lifts up and inspires Jolly.
A sweet moment was shared between his weight lifting with Conrad and Jolly after lifting the 560 pounds.
He went straight to his coach and hugged him; he started to get emotional.
Jolly explains one of the many times Conrad has helped him.
"One day, I had been sore from working out my legs the previous day before and I was struggling to put more weight on, but he helped me push through the pain and told me, 'you will thank me when your progress shows.' After that I forced myself to put more on even though I was sore. He also helps me clear my mind to be able to focus on being on the platform," expressed Jolly.
Another person that inspires him is a famous retired professional body builder that helps him keep striving for more and more weight.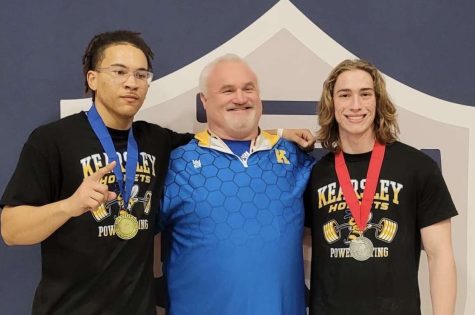 "My biggest inspiration is Ronnie Coleman because he is one of the strongest people to exist in my opinion. He had a great talent to be strong and to have a career in bodybuilding because most people struggle to do both," shared Jolly.
Jolly has been training for almost 3 years to get to the shape he is in now and he further explains how much time he puts into this.
"I have been lifting since my sophomore year, but I did not start power lifting until my junior year. Since sophomore year, I have tried to lift everyday other than the days where I rest. I put a lot of determination into this, which includes dieting and going to the gym every night after I get done working," stated Jolly.
Jolly's preparation involves a lifting program and some advice from a past coach about dieting.
"I prepared by using a power lifting program I got from a USA power lifting competitor named Dan Swole and I used a diet that I had got from my past bodybuilding coach," explained Jolly.
Throughout his life he had always struggled with his weight and feeling comfortable in his own skin.
Working out, lifting and dieting has helped him a lot to keep the shape he is in now.
"I started lifting because I was tired of being overweight, so I began running around my neighborhood and my surrounding neighborhoods everyday. Also, I do at home YouTube workouts and eat healthy. In the past, my now best friend asked me if I wanted to try power lifting because they barely had any people to keep the team going and I accepted the offer, which got me into lifting bigger weights," addressed Jolly.
Through all of his hard work and patience in lifting, he finally accomplished what his younger self dreamed about.