Giving warmth and motivation this holiday season
Tis' the season of giving where people are spreading love and holiday joy.
Teacher Mrs. Curtis and the student council created two great ideas to try to give something to the students of KHS.
In her classroom, Mrs. Curtis has set up a positivity tree. It is full of handwritten notes from students containing goals for themselves or motivational words for others.
Mrs. Curtis explains how she got the idea and how she thinks it helps the students.
"I chose this because holidays are hard for many. A little encouragement is what people need right now. I wanted to encourage people to encourage others," exclaimed Curtis.
Although, all of the notes were equally amazing, some of the words of encouragement I found the most significant on the tree said by students were: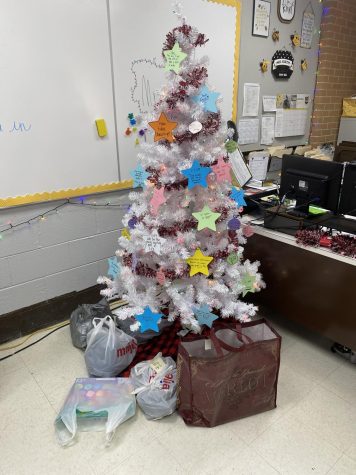 "Take some time for yourself."
"Just keep smiling! It's going to get better!"
"My weaknesses are my strengths."
Students wrote down goals for themselves on what they wanted to accomplish. Two of them were about the upcoming Calculous test.
"Goal: Pass Unit 4 Calc test with at least a 90% or better."
"WE ALL PASS OUR AP CALC TEST!"
Junior Hannah Ketterer had a very positive view on the tree and she believes that the tree is very effective for the students.
"I think the positivity tree brings joy to the students. It helps pick us up when we really need it. And it is very cute and has so much fun color to it," commented Ketterer.
Another student who enjoys tree is junior Annalisa Hanson, who believes that the overall meaning of the tree is very helpful and could raise someone's spirits.
"So many people are going through different things in their lives and it is great to support people anonymously when they need some encouragement. And it also helps people with social anxiety, like myself," remarked Hanson.
Along with the positivity tree, the Student Council also came up with the idea of the giving tree.
Originally, the giving tree had been deserted until the student council. The senior and student council member Thomas Brewer was one of the ones to come up with the great idea to turn it into something positive.
"We found a Christmas tree in our council room and had no clue what to do with it. I brought up the idea that we used to do a giving tree in the elementary schools. So, like the Grinch, we stole the tree from the council room and dropped it off in the office and didn't tell anyone. Now, anyone who needs a hat or gloves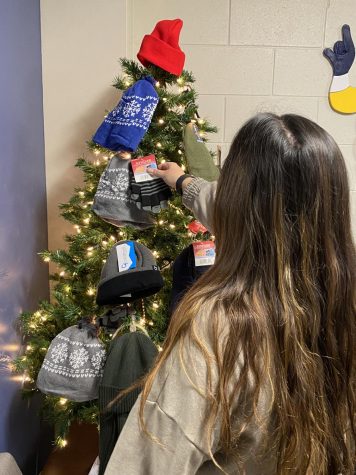 can get them whenever they need them," informed Brewer.
Sophomore Ava Salem expresses her thoughts on how she feels about the giving tree. The tree is standing proudly in the main office, and students or staff can hang winter clothing items on it to help others who may need them. Some of the items included hats, gloves, and scarves.
"I think it was a great idea for them to create because they are helping the ones that are struggling in this winter season," asserted Salem.
Likewise, sophomore Carlos Cosar thinks the giving tree was an excellent idea.
"I think it is very nice and resourceful for people in need for gloves and hats," emphasized Cosar.
Everyone deserves a bit of optimism and warmth in these cold, snowy times.