Spreading holiday spirit
As an attempt to add some color to the season, almost every Friday of December Mrs. Wolf's Studio Art students will be sharing their classroom to celebrate the holidays by doing crafts and enjoying some hot chocolate with some of the special education students of KHS.
Teacher, Courtney Wolf specifically chose Studio Art for this project because these students have shown so much talent and kindness.
"I only chose Studio Art because of the amount of experience they have over the rest of the art classes. They are very excellent, kind-hearted students with wonderful artistic abilities and I just feel like it would make these students have a great time while doing something everyone loves," expressed Wolf.
Wolf was very excited to participate in this because of her love of children with special needs.
"Those types of students are absolutely hilariously funny and so smart in their own ways. They are always making me laugh by the things they say and do. I love working with them because they are so fun to be around," explained Wolf.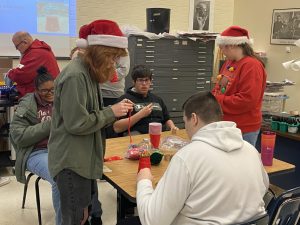 Wolf also mentioned that she was not the only staff member involved,  Ms. Miarka and Mrs. Horne had also taken part in this.
Ms. Miarka had a lot to say about the process.
"TikToks are my main source of where I get my ideas for my students. Seeing as many TikToks as I do a day, I find so many Christmas crafts I scroll upon. It's really a group process with these types of things. We attempt to find activities to do, so that the kids have a great experience in school. Mrs. Horne actually gave the idea to make us all want to do this," commented Miarka.
I spoke with Mrs. Horne about where the idea originated from.
"Just as Miarka scrolls endlessly on TikTok, I tend to find myself scrolling through Facebook. That's where I found the idea for this. We all scroll and scroll on social media until we happen to find great ideas for the kids," answered Horne.
Studio Art students cherished the time they shared with the students and welcomed them with open arms.
Senior Lauren Hinman spoke about a conversation she had with a student.
"Well, I had a pretty long conversation with Gavin about WWE, so that was interesting. He told me his favorite wrestler is the Undertaker," noted Hinman.
Senior Hannah Pollick enjoyed the quality time that she had with the students.
"I enjoyed getting to interact with other students and bond with them," commented Pollick.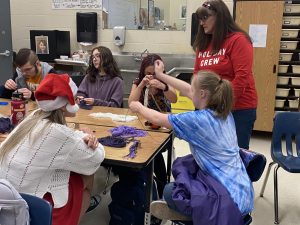 Pollick also mentioned what moments stood out to her about the day and how it made her feel.
"What stood out to me is that when they would ask me for help, I was able to help them understand what we were doing. I really enjoyed the experience and it was a lot of fun," noted Pollick.
Now, down to the real stars of the show, I wanted to see what the Special Education students had to say about what they enjoyed most about bringing out their creative side.
I spoke with Sammy Miller, and she was ecstatic by the colors and sweets.
"I loved [my] purple hat and [eating] candy," declared Miller.
Senior, Laniyah Barnes shares with me what she admired most about the day.
"I loved hanging out with you and the rest of class. I ate more M&M's than I put in my ornament," exclaimed Barnes.
The day was a success, and everyone had their share of excitement and fun spreading holiday spirit!