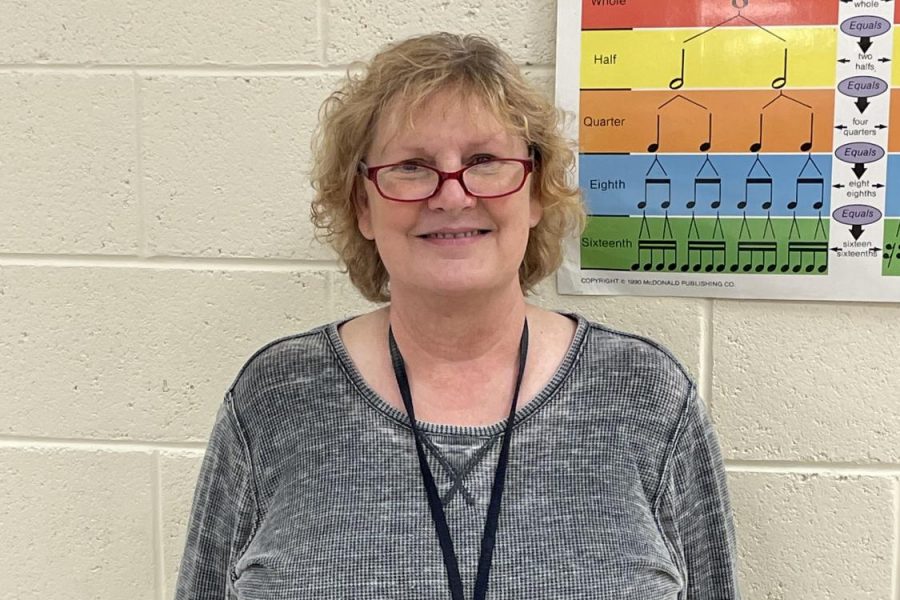 IMAGE / Colin O'Brien
Beloved Choir Teacher retires after 33 years of Teaching
Veteran teacher Mrs. Renee Kotzian is retiring after 31 years of teaching at Kearsley High School.  As choir teacher, she was particularly affected by the COVID-19 pandemic.
There was a cause and effect to Kotzian's decision to retire. As a class that is completely dependent on in-person practice and especially the performances during the year, the COVID-19 shutdown completely messed with the schedule for choir and Kotzian in general.
Stating the blatantly obvious, with the pandemic at the time of this writing still going, a lot of teachers are worried about the prospect of yet another wave of COVID cases, especially with new variants cropping up. Not wanting to have to endure another shutdown that would stop her teaching in its tracks, Mrs. Kotzian has elected to retire the same year as her husband.
Having taught for 33 years, 31 of which at the high school, she is a veteran of the staff. Her retirement is a big deal seeing as any choir student from the last three decades has been taught and mentored by Kotzian.
Many students have a bittersweet attitude towards the news of her retirement like senior Mason Taber.
"Mrs. Kotzian deserves to retire after so many years of hard work," Taber said.
Choir Alumnus Niccos Patrick, was inspired by Kotzian throughout and even after high school.
"Mrs. Kotzian is the one who inspired me to continue on with the arts after high school," Patrick said.  "She showed me that I should not be scared of failing, to go for it and even if I fall down someone will be there to help me back up."
Kotzian has touched many lives during her time at Kearsley. She truly has inspired so many individuals during her tenure at Kearsley High School.
Kotzian has wanted to give something back to her choirs that she has taught during her last year of teaching. During some of the other years of her teaching she would make blankets for her seniors when they graduate.
She decided this year to give all her students that she has a blanket. This way her last students can keep something to remember the experiences that they had in the class with her.
To bring things to a close, filling this position will definitely be an unenviable task. Kotzian has touched so many lives with a legacy that will be hard to stack up to.