Charity, arts motivate Locke
It's hard not to notice senior Jillian Locke. Her loud, outgoing presence and genuine compassion give her command in any environment.
"I'm very bold, willing to speak my mind, will do anything for anyone, and I tend to be very positive," Locke said.
Involving herself in choir, theater, Student Council, the clinic's Youth Advisory Council, and three sports, Locke has made a lasting impact on KHS.
Nothing exemplifies this better than her leadership in creating the Community Closet.
What started out with Locke joining a Student Council committee turned into the creation of a lifeline for Kearsley students and families.
As head of Student Council's Closet committee, Locke manages the closet. She also ensures the items are usable.
"Usually I do things pertaining to clothes, whereas (junior) Allison Eible does everything pertaining to inventory," Locke said. "Therefore, I do all the washing and drying of clothes, the organization of clothes, working through the donations we have, and more."
Locke also takes leadership in Kearsley's performing arts.
"I've done theater since my freshman year and choir since middle school," Locke said. "I've always been big into singing and it's always made me feel good knowing I can entertain others."
Theater helps Locke explore new limits.
"Theater pushes me out of my comfort zone and (I) become someone completely different," Locke said.
As president and treasurer of the theater club, Locke takes on numerous responsibilities to ensure KHS has a production. She was also the student director and acted as the play's main lead.
"I am mainly handling all things to do with the play," Locke said. "Whether that be actual acting, tickets, costumes, and more, that's all me."
Senior Vincent Zamora, vice president and secretary of the theater club, has worked closely with Locke throughout high school.
Zamora feels Locke's leadership and people skills help her organize such a complex group.
"She directs the meetings and helps the kids learn how to do better," Zamora said.
Locke met one of her closest friends, alumnus Joseph Elliot, when she auditioned for the KHS theater production "Murder Will Make Him Mine" during her freshman year. They have bonded more and more over time.
"Joe knows me the best even though we've only become very close in the last two years," Locke said. "He's extremely loyal and never judges me for anything I feel or say."
If Locke could change anything about the world, she would make it more understanding.
"I would probably somehow make kindness and acceptance mandatory," Locke said. "I hate seeing my friends and family hurt by the darkness of the world."
Locke will continue her education at Eastern Michigan University in the fall.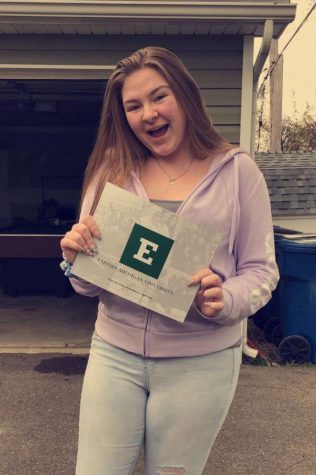 Senior Hunter Parkhurst, another of Locke's many friends, feels Locke has a compassionate nature.
"I think what makes her such a great person is she is always there for others," Parkhurst said. "She will bury her own issues and make sure that everyone around her is OK, and if you don't seem OK, she'll do anything and everything to make you OK."
Parkhurst thinks Locke gets her compassionate nature from her family.
"I feel her drive comes from how she was raised," Parkhurst said. "She was raised to help people. Her whole family is helpful so she caught into it."
Locke's work ethic and attention to detail will suit her well in the workplace.
"She works on the Closet and she did so much over the summer," Parkhurst said. "She was there for days at a time from early in the morning to late at night, just making sure everything was done neatly and organized correctly.
"For some people wanting perfection is a weakness. For her, it's her strength."
About the Contributor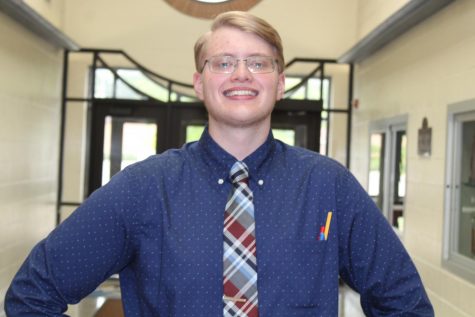 Connor Earegood, Editor in Chief
Class: Senior

Hobbies: I participate in quiz bowl, chess, robotics, Future Problem Solving, and many other "nerd sports."

Future Plans: I plan to...