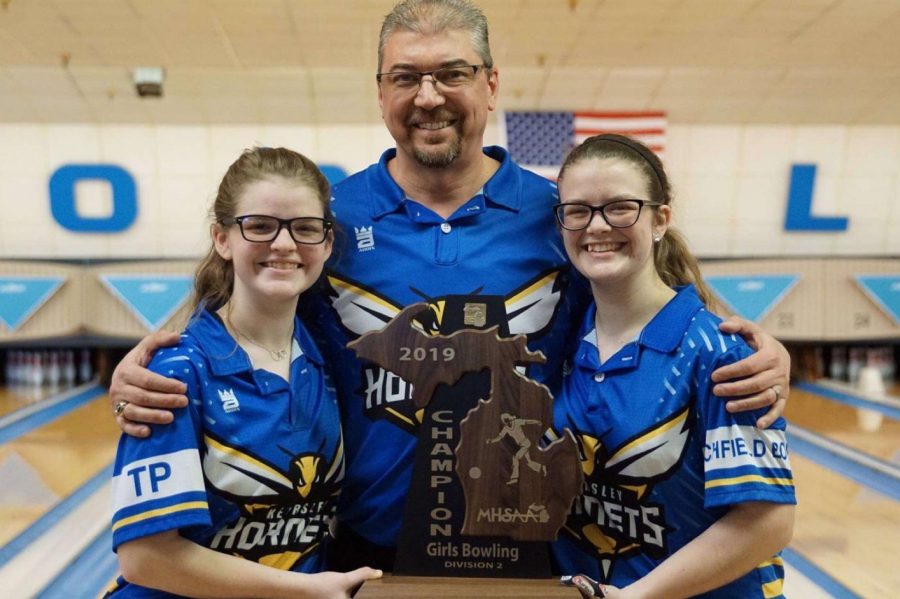 IMAGE / Mr. David Fairman
Girls bowling feels confident
Confidence and teamwork is the motto for girls bowling this season.
Last season, the Hornets won their sixth state title. They nicknamed the 2018-19 campaign the "blitz for six" in their quest for the honor.
The Hornets maintained their winning streak — dating back to 2013 — and aim to keep it this season.
Coach Rob Ploof said his team is climbing higher than ever, using their teamwork to earn many titles.
"Our goals are always very high," Ploof said. "We expect to compete for the Metro League title, a regional title, and a state title. It will not be easy but if we all work together and work hard, good things will happen."
Ploof is thrilled for the girls to start bowling due to their cooperation and performance during tryouts.
"I'm excited for it (the season) to begin and excited for our seniors," Ploof said. "We have a great group of girls that work well together and they are really fun to watch and fun to coach."
The season starts on Sunday, Dec. 8.
Junior Allison Eible said that bowling with her team and continuing the streak will be the highlight of the season.
"I can't wait to bowl with my girls again," Eible said. "We can't wait to continue our conference streak, which is our seventh-straight title."
Eible said that reflecting on past mistakes and cooperating as a team will help the Hornets this year.
"I think that we lacked really being a team that worked together (last season)," Eible said. "I think that it could've been better."
Many of the team's bowlers are returning members.
"I feel very good about this season," Timm said. "We only lost one senior last year and we are all pretty confident going in (to the season).
Junior Megan Timm said that new Metro League competition and new faces make her feel confident about the season.
"The team is looking great," Timm said. "With the new teams (in the Metro League), we are excited to have some new competition and we are ready to defend our titles."
Timm said team cooperation will be improved.
"Our team dynamic lacked a bit (last season)," Timm said. "I would love to see us all get close and become a family, so to speak. We only ever spend time together in a bowling alley so I would love to see that change. It would make us better."
Girls Bowling at a Glance
     Key Returners
Imari Blond, senior
Samantha Timm, senior
Allison Eible, junior
Allison Robbins, junior
Megan Timm, junior
     Key Losses
     Anticipated Strengths
     Anticipated Weaknesses
     2018- 2019 Record
     Projected Top 3 League Teams
Kearsley
Flushing
Swartz Creek