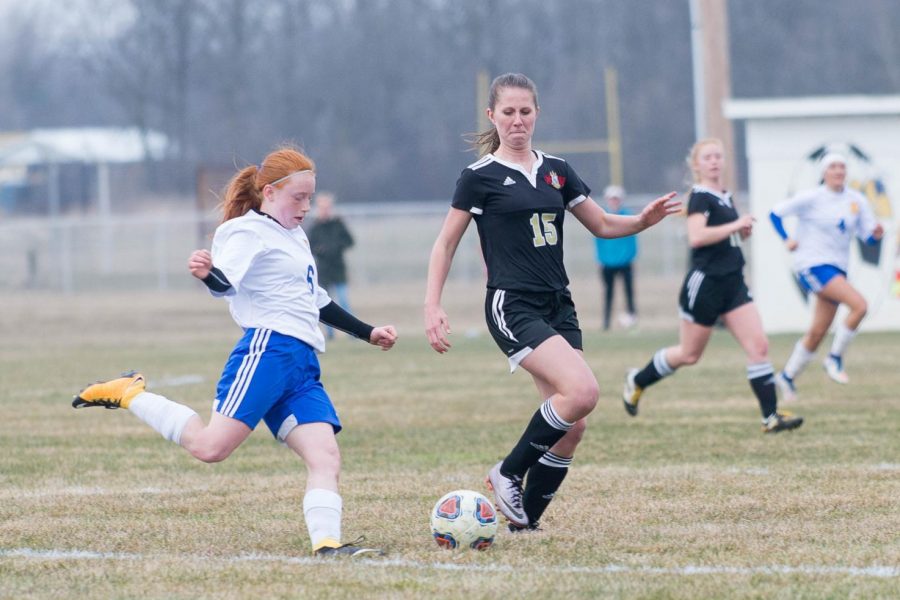 IMAGE / Hicks Studio of Davison
Soccer strives to improve this season
The soccer team is expecting to build from a blank slate to rise to victory.
Last year, the team went 0-10, so the Hornets plan to make this season a revival.
Sophomore Megan Herta expects this to be a good season for the team.
"We have already put (in) a lot of work in the short amount of time we have been practicing," Herta said. "I expect that we will do the same throughout the season and get some wins."
Junior Felicia Cunningham is excited to see the team thrive.
"I'm most excited about winning this year with my team," Cunningham said. "Last year was rough, but we pushed through and will come out on top at the end."
Kearsley will return one player who earned second-team, All-League honors last season: senior Amber Hardy.
Hardy said the team has positive attitudes and the players are excited about playing.
In addition, Hardy said she is "looking forward to working with the newer players and teaching them the techniques I learned over the years."
But it is Hardy's last year playing soccer, which will be the final time she plays with her sister, Miranda, who is a sophomore.
"I'm looking forward to playing with my sister for my last year," Hardy said. "But it's going to be hard leaving her this season."
Most all, though, Hardy said just being part of team will be what she will miss the most when the season ends.
"I'm definitely going to miss the team bonding and the coaches," Hardy said.
Girls Soccer at a Glance
Key Returners:
Amber Hardy, senior
Alexa Lippert, senior
Felicia Cunningham, junior
Miranda Hardy, sophomore
Megan Herta, sophomore
Brandi Dewar, sophomore
Key Losses:
Emily Diehl
Marysa Gatica
Anticipated Strengths:
Teamwork
Potential new players bring
Anticipated Weaknesses:
2018-2018 Record:
Projected Top 3 League Teams:
Fenton
Goodrich
Swartz Creek