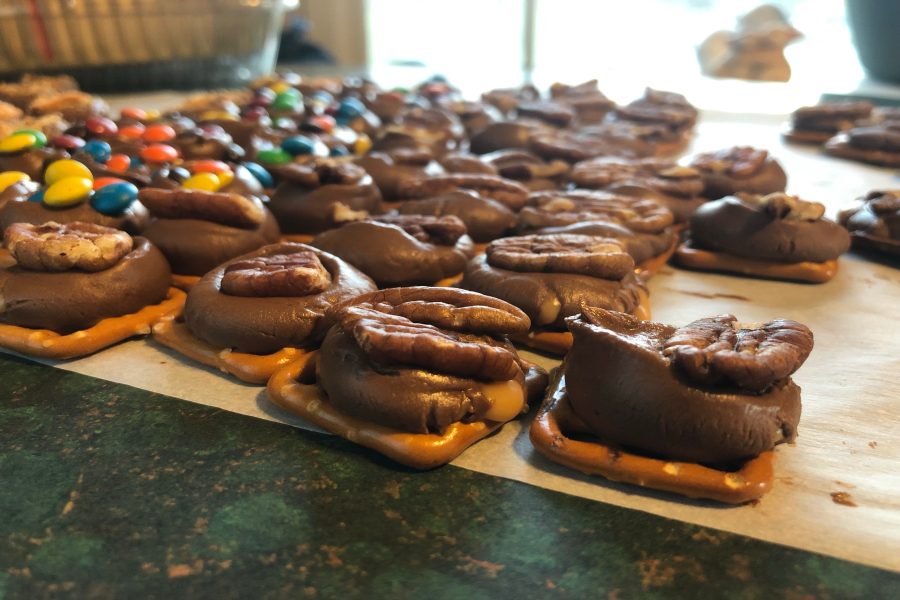 IMAGE / Hope Wills
Turtles spread holiday cheer
Having a holly, jolly Christmas dessert is hard to make due to the many steps and needed precision.
But there is a delicious but easy recipe to bake.
These crunchy, sweet and salty pecan turtles will melt on your taste buds.
My mom, Ms. Novell Wills, and I made pecan turtles with a variety of toppings.
Ingredients: (These ingredients can be found in most grocery stores.)
A bag of Snyder's of Hanover mini pretzels (any brand will work) , a quarter of a big bag of pretzels will be enough
A bag of Rolos
A small bag of pecans
A bag of Mini M&Ms — Optional
Two Butterfingers, crushed — Optional
Parchment paper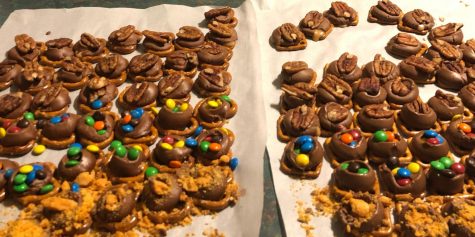 First, grab a large cookie sheet and cut out some parchment paper. Open the bag of pretzels and place it on the sheet.
Preheat the oven to 400 degrees.
Second, dump the pretzels onto the cookie sheet and line them up in rows.
With this number of pretzels you can make 64 pecan turtles.
As one person lines them up, another person can open the bag of Rolos and place one on each pretzel.
After making sure there is space between the pretzels, take these treats to the oven and time them for five minutes.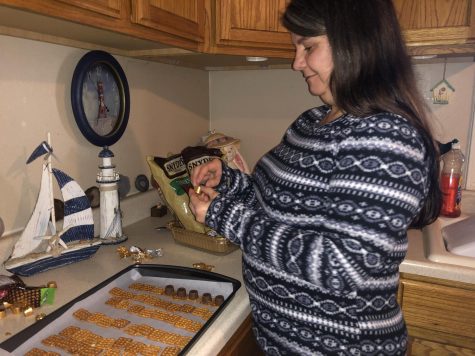 Periodically check on treats, as the Rolos are not supposed to completely melt but need to be soft enough to act as glue to add the toppings later.
After the timer goes off, take the treats out with caution. The sheet will be hot.
After letting the pretzels cool for a minute, open the bag of pecans.
Place a pecan on top of the Rolos and repeat this for every pretzel.
For people who do not like pecans, you can replace the pecans with M&Ms, Butterfingers, or any candy of your choice.
Now you can have fun with the different variety of candies to place on each turtle.
Set aside your pecan turtles until the chocolate has hardened.
This easy-to-make treat will be great for events because it takes only 15 minutes to assemble and decorate.