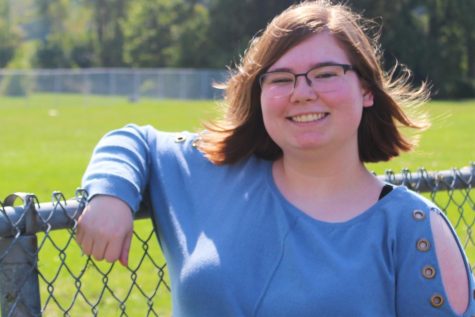 Birthday: March 19, 2003


Hobbies/Interests: I love to read and write. I also love outer space. I enjoy collecting antique items.


Favorite Quote: "It is never too late to be what you might have been." - George Eliot


Favorite Book:  "They Both Die At The End" by Adam Silvera


Plans After High School: I plan to go to college to study veterinary medicine.


Hope Wills, News Editor
Jun 05, 2019

The Eclipse promotes Earegood, Taylor to top positions

(Story/Media)

Jun 05, 2019

Band camp will sharpen skills

(Story/Media)

May 30, 2019

Humans need to stop trashing Earth

(Story)

May 23, 2019

Stop giving participation trophies

(Story)

May 21, 2019

Golf finishes seventh at league tournament

(Story)

May 21, 2019

School ends June 6 after governor forgives snow days

(Story/Media)

May 10, 2019

Burroughs dances, marches through high school

(Story)

Apr 03, 2019

An open letter to a loved one: I'm here for you

(Story)

Apr 03, 2019

Last day of school moved to June 10

(Story/Media)

Mar 18, 2019

ASL should be taught to more students, accepted as a foreign language by colleges

(Story)

Mar 18, 2019

Women's History Month: Malala Yousafzai impacts education for the better

(Story)

Mar 11, 2019

March is Reading Month: Realistic Fiction brings light to dark topics

(Story/Media)

Feb 20, 2019

Mackenzie Atkinson's passion for photography makes her click

(Story)

Feb 08, 2019

Students eager to dance the cold away at Snowcoming

(Story)

Feb 08, 2019

Animals deserve love, affection, care

(Story)

Feb 04, 2019

Black History Month: Malcolm X changed the norms for Americans

(Story)

Jan 30, 2019

Gun violence opinion differs among people

(Story/Media)

Jan 25, 2019

Schuessler travels the world one country at a time

(Story/Media)

Jan 23, 2019

Extra chews the competition at KHS

(Story/Media)

Jan 21, 2019

King's accomplishments influence America today

(Story)

Dec 21, 2018

Three treats to bring cheer this holiday season

(Story/Media)

Dec 17, 2018

Misbehaving teens are not to blame

(Story)

Dec 12, 2018

'Zodiac' pulls readers in with unique plot

(Story/Media)

Dec 07, 2018

Jazz band will host dinner to raise money for Florida trip

(Story/Media)

Nov 21, 2018

Students have a love-hate relationship with Black Friday

(Story/Media)

Nov 13, 2018

World Kindness Day is celebrated internationally

(Story)

Nov 13, 2018

Youth leadership program price disappoints students, teacher

(Story/Media)