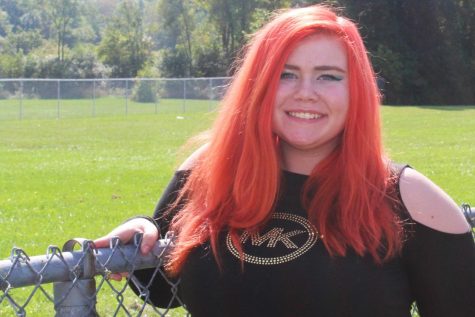 Birthday: 
January 3, 2001
Hobbies/Interests: 
Photography, writing poems, makeup, cheer, drawing, painting, and interior designing.
Favorite Quote: 
"I don't go by the rule book... I lead from the heart not the head." - Princess Diana
Favorite Book: 
"Alice in Wonderland" by Lewis Carroll
Plans After High School: 
Going to Mott Community College to major in Dental Hygiene and minor in photography and cosmetology.
Elizabeth Ashley, Reporter
Jun 03, 2019

Virtual high school will open in Kearsley

(Story/Media)

May 17, 2019

Students experience mock interviews to prepare for work

(Story)

May 08, 2019

Thank a teacher during Teacher Appreciation Week

(Story/Media)

May 17, 2019

The Eclipse seniors say goodbye

(Story)

May 03, 2019

'One Lucky Day' exceeds playwright's expectations

(Story)

May 03, 2019

An open letter to my best friend: Boys don't define your worth

(Story)

Apr 22, 2019

Celebration dinner honors high-achieving seniors

(Story/Media)

Apr 22, 2019

Kearsley alumni return to the stage for charity

(Story/Media)

Apr 15, 2019

Choir's voices were golden in national competition

(Story)

Apr 01, 2019

Parish accepts offer from American Ninja Warrior

(Story/Media)

Mar 20, 2019

Talieva enjoys school in America

(Media)

Mar 15, 2019

Leah Williams rides to a bright future

(Story)

Mar 08, 2019

Barbie's inspired children to be creative for 60 years

(Story/Media)

Mar 08, 2019

Prepare to lose sleep since daylight saving begins Sunday

(Media)

Mar 01, 2019

Winter driving tips help keep students prepared

(Story/Media)

Feb 13, 2019

Valentine's Day dates don't have to be expensive, awkward

(Story/Media)

Feb 06, 2019

German student enjoys making friends, playing violin

(Story/Media)

Jan 11, 2019

Football partners with BD's to raise money

(Story/Media)

Jan 07, 2019

Main office construction exceeds expectations

(Story)

Dec 21, 2018

Doorways adorned for holiday cheer

(Story/Media)

Dec 17, 2018

Family traditions boost Christmas spirit

(Story/Media)

Dec 10, 2018

Students learn to save lives in human anatomy

(Story)

Nov 30, 2018

Students find Peanut Butter Lover's Month to be delicious

(Story/Media)

Nov 15, 2018

Edgenuity offers a different way for students to learn

(Story/Media)