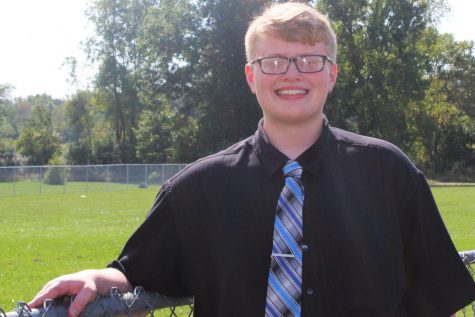 Birthday: 
February 25, 2002
Hobbies/Interests: 
Hockey statistics, robotics, chess, quiz bowl and trivia, history, Student Council, and Future Problem Solving.
Favorite Quote: 
"Whatever you do, do it safely, do it legally, and stay out of trouble." -Darrick J. Puffer
Favorite Book: 
"Fear and Loathing in Las Vegas" by Hunter S. Thompson
Plans After High School: 
I plan to attend the University of Michigan in Ann Arbor to study electrical engineering, pursuing a career in automation and technology. I also plan to contribute to the fan section of "Winging it in Motown," the SB Nation news site for the Detroit Red Wings, sharing my opinions on the team and its future to continue some form of amateur journalism through college.
Connor Earegood, Managing Editor
Jun 06, 2019

The Eclipse says aloha (for the summer)

(Story/Media)

Jun 05, 2019

Ramey, Braziel earn back-to-back All-State honors

(Story/Media)

Jun 05, 2019

Golf ends season at regional

(Story)

Jun 03, 2019

Schreiber represents Student Council on the Board

(Story/Media)

May 30, 2019

Braziel, Silvas, Ramey lead track and field teams at Badar

(Story/Media)

May 30, 2019

Gronauer will speak at commencement

(Media)

May 23, 2019

Silvas, Buschur join All-League track and field team

(Story/Media)

May 23, 2019

Ramey, Richards earn All-League in track and field

(Story/Media)

May 21, 2019

Track sends four athletes to state finals

(Story/Media)

May 21, 2019

Grager retires after 32 years in education

(Story)

May 17, 2019

Boys track squeaks past Linden, falls to Swartz Creek

(Story)

May 17, 2019

A farewell from Jenna Robinson, editor in chief

(Media)

May 13, 2019

Silvas leads boys track at Flint Track & Field Showcase

(Story/Media)

May 08, 2019

Boys track places fourth at Goodrich Invitational

(Story/Media)

May 13, 2019

Retirement offers opportunities for Puffer

(Media)

May 03, 2019

Boys track outpaces Bronchos, falls to Tigers

(Story/Media)

Apr 26, 2019

Braziel, Silvas help boys track split dual meet

(Story/Media)

Apr 22, 2019

Braziel, Buschur lead boys track at Marcet Invitational

(Story/Media)

Apr 17, 2019

Boys track splits first league meets

(Story/Media)

Apr 17, 2019

NHS gives daughters a Hawaiian dance with their dads

(Media)

Apr 15, 2019

'ABC's of School Safety' offers insight for elementary students

(Media)

Apr 10, 2019

Boys track sees mixed results at relay

(Story)

Apr 10, 2019

Baseball, softball take on Blue Devils in season openers

(Story)

Apr 05, 2019

MME will test juniors

(Story/Media)

Apr 03, 2019

AAF benefits fans, players of football

(Story/Media)

Apr 03, 2019

Opinions on AAF differ

(Story)

Mar 22, 2019

Harris, Silvas lead boys track at first meet

(Story/Media)

Mar 22, 2019

Hornets spring into sports

(Story/Media)

Mar 18, 2019

The Eclipse March Madness Challenge returns for 2019

(Story)

Mar 20, 2019

Tornado warning interrupts, cancels FLVN

(Media)

Mar 11, 2019

Family, politicians inspire Conway to dream for office

(Story/Media)

Mar 08, 2019

Coding knowledge should be standard

(Story)

Mar 06, 2019

Boys bowlers finish among top eight in the state

(Story)

Mar 06, 2019

Robotics wins Kettering district event

(Media)

Mar 01, 2019

Boys bowling wins regional, Langworthy qualifies for state final

(Story)

Feb 20, 2019

Boys bowlers win individual, team tournaments

(Story)

Feb 13, 2019

Boys bowling bridles Mustangs in season closer

(Story)

Feb 11, 2019

Boys bowling beats Fenton, falls short in tournament

(Story)

Feb 06, 2019

Boys bowling wins two, loses one during snow week

(Story/Media)

Feb 01, 2019

Super Bowl set to be grudge match

(Story/Media)

Feb 04, 2019

'Dookie' celebrates silver anniversary

(Story)

Jan 23, 2019

Boys bowling stays hot over freezing weekend

(Story)

Jan 14, 2019

Trojans slay boys bowling

(Story)

Jan 09, 2019

Boys bowling conquers weekend matches, takes third in tournament

(Story/Media)

Jan 04, 2019

Boys bowling squeaks past Creek

(Story)

Jan 04, 2019

Trivia Day celebrates knowledge lovers

(Story/Media)

Dec 21, 2018

Boys bowling tastes first league defeat

(Story)

Dec 17, 2018

Weekend tournaments are a mixed bag for boys bowling

(Story)

Dec 14, 2018

Roof, Blond lead girls bowling team past the Raiders

(Story)

Dec 14, 2018

Langworthy rolls a 279 to edge past Flushing in boys bowling

(Story)

Dec 12, 2018

Students excited for Democratic Party's 2020 candidates

(Story)

Dec 10, 2018

Boys bowling rolls over Holly

(Story)

Dec 17, 2018

Michigan movie lovers can visit blockbuster sets, locations

(Media)

Dec 07, 2018

Four Michigan teams compete in bowl games

(Story/Media)

Dec 05, 2018

Boys bowling kicks off season with two victories, wins tournament

(Story)

Dec 03, 2018

Hockey team won't skate this season

(Story/Media)

Nov 30, 2018

Hornets kick off winter sports

(Media)

Nov 15, 2018

The Eclipse changes publishing schedule

(Media)

Nov 06, 2018

Donald proud to play football like a girl

(Story)

Oct 30, 2018

Celebrate Halloween with these 10 must see movies

(Media)

Oct 25, 2018

Raiders swat football team on senior night

(Story)

Oct 23, 2018

I don't feel safe being alone in public

(Media)

Oct 18, 2018

Despite popular opinion, pineapple does belong on a pizza

(Story)

Oct 16, 2018

Hornets swarm Trojans in lopsided gridiron victory

(Story/Media)

Oct 09, 2018

Even though immoral, Columbus should still be remembered

(Story)

Oct 09, 2018

Hornets stung in homecoming thriller

(Story)

Oct 04, 2018

Wash, Walker lead juniors to second powder puff title

(Story)

Sep 27, 2018

Swim outpaced in Metro League opener

(Story)

Jun 12, 2018

Engineering, track captivates sophomore Raydoffa Braziel

(Story/Media)

Jun 05, 2018

Track and field athletes medal at state final

(Story/Media)

Jun 05, 2018

Lane represents students on the Board

(Story/Media)

May 31, 2018

Griffin, Ramey take gold in Badar Invitational

(Story/Media)

May 31, 2018

Seniors receive emotional send-off on Class Day

(Story)

May 24, 2018

Braziel wins 800 at league meet, Hornets place fifth

(Story/Media)

May 24, 2018

Ramey, Walker earn All-League in track

(Media)

May 22, 2018

Boys track advances four to state final

(Story/Media)

May 16, 2018

Softball sweeps the Raiders

(Media)

May 14, 2018

Silvas leads boys track at Twilight Classic

(Story/Media)

May 14, 2018

Role-playing games harness students' imaginations

(Story/Media)

May 11, 2018

Creek, Linden run past boys track

(Story/Media)

May 11, 2018

National Police Week celebrates those who protect, serve

(Story/Media)

May 07, 2018

Boys track takes third at Goodrich

(Story/Media)

May 03, 2018

Boys track splits meet, led by Silvas

(Story)

May 01, 2018

Boys track sweeps meet

(Story)

Apr 30, 2018

Fenton out drives the golf team

(Story)

Apr 27, 2018

Boys track splits first league meets

(Story/Media)

Apr 25, 2018

Red Wings need to improve

(Story)

Apr 24, 2018

Deep lyrics, catchy riffs drive 'The Doors'

(Story)

Apr 23, 2018

Boys track places fifth at Frankenmuth

(Story/Media)

Apr 12, 2018

Skyelar Herriman finds expression, happiness important

(Story/Media)

Apr 09, 2018

'Fahrenheit 451' is relevant to today's society

(Story)

Mar 27, 2018

March is Reading Month: Biographies tell the stories of us

(Story/Media)

Mar 21, 2018

Eddie Harris sets challenging shot put goal in track and field

(Story/Media)

Mar 16, 2018

Quiz bowl finishes places fourth in Metro League tournament

(Story/Media)

Mar 13, 2018

A walkout is the wrong way to remember the Parkland victims

(Story)

Mar 12, 2018

Compete in the third annual Eclipse March Madness Challenge

(Story)

Mar 09, 2018

Clocks will spring forward as daylight saving time begins

(Story)

Mar 05, 2018

Hockey shut out by LakeVille in pre-regional final

(Story)

Mar 01, 2018

Strategic thinking makes chess an intriguing game

(Story)

Feb 28, 2018

Hockey comes from behind to win pre-regional game

(Story/Media)

Feb 23, 2018

Hockey is victorious against Tri-Valley, Port Huron

(Story/Media)

Feb 20, 2018

Hockey falls to Swartz Creek/Clio/Flushing in a 13-goal contest

(Story/Media)

Feb 14, 2018

Wrestling wins third district title in a row

(Story)

Feb 13, 2018

United takes the thunder out of Bay Area

(Story/Media)

Feb 13, 2018

Hockey crushes the Lightning

(Story/Media)

Feb 08, 2018

Quiz bowl wins two, loses one

(Story/Media)

Feb 08, 2018

Olympic hockey is better without professional athletes

(Story)

Feb 06, 2018

Hockey dominates Southgate Anderson

(Story/Media)

Feb 01, 2018

Quiz bowl dominates in Metro League opener

(Story)

Jan 31, 2018

Hockey falls to the trio of Swartz Creek/Clio/Flushing

(Story/Media)

Jan 30, 2018

United falls to Freeland

(Story/Media)

Jan 22, 2018

United stuns Lapeer, Mid-Michigan

(Story)

Jan 12, 2018

Hockey falls to Fenton/Linden in overtime thriller

(Story)

Jan 12, 2018

'LA to Vegas' soars in Fox debut

(Story)

Jan 08, 2018

Hockey falls twice in one week

(Story)

Dec 22, 2017

'Die Hard' is a Christmas movie

(Story/Media)

Dec 22, 2017

Hockey team blanked by Freeland

(Story/Media)

Dec 20, 2017

Earegood predicts college football bowl games

(Story/Media)

Dec 18, 2017

These Christmas movies will make your holiday special

(Story)

Dec 15, 2017

United shuts out Port Huron

(Story)

Dec 13, 2017

Bill of Rights Day reminds students of their freedoms

(Story)

Dec 11, 2017

United drops game to Grand Blanc

(Story/Media)

Dec 15, 2017

Christmas spirit week will bring holiday cheer to students, staff

(Media)

Dec 04, 2017

United sweeps three games in a week

(Story)

Dec 01, 2017

Girls basketball keeps it close, falls to Goodrich

(Story)

Nov 27, 2017

Hockey falls to Bay Area Thunder

(Story)

Nov 22, 2017

Holidays should be a time for family, little else

(Story)

Nov 20, 2017

Hockey shut out by Alliance

(Story)

Nov 20, 2017

Kearsley teacher selected to officiate football state final

(Story)

Nov 17, 2017

United hockey is ready for new season, new league

(Story)

Oct 30, 2017

Shake your bones to these spooky songs

(Story)

Oct 25, 2017

Check out these amazing bands from Los Angeles

(Story)

Oct 20, 2017

AP tips and tricks to get an A

(Story)

Oct 13, 2017

Sophomores sting juniors in powder puff championship

(Story)

Oct 09, 2017

Juniors look good on powder puff court

(Story)

Oct 04, 2017

'Young Sheldon' provides a fresh look to an iconic character

(Story)

Oct 02, 2017

Trump's tweets set a bad example for teens

(Story)

Jun 07, 2017

Religion plays different roles among freshmen, juniors

(Story/Media)

Jun 07, 2017

Volunteering at an animal shelter benefits students, animals

(Story/Media)

Jun 05, 2017

Here are five apps every student should check out

(Story)

Jun 02, 2017

Freshmen want to win, improve athletically

(Story/Media)

May 19, 2017

Trump saved 'SNL'

(Story)

May 16, 2017

Attendance dropped by double digits on senior skip day

(Story)

May 09, 2017

Stretching is crucial for athletes: Here are five stretches you can do

(Story)

May 08, 2017

Fidget spinners serve as a substitute to squirming in your seat

(Story/Media)

Apr 27, 2017

Metallica's latest album rocks

(Story)

Apr 26, 2017

Bill O'Reilly deserved losing his job

(Story)

Apr 18, 2017

April has some wacky holidays

(Story/Media)

Mar 29, 2017

Tim Allen's recent comments are political humor

(Story)

Mar 24, 2017

Weezer's 'White Album' rocks

(Story)

Mar 21, 2017

United hockey will join new conference next season

(Story/Media)

Mar 14, 2017

Five freshman share their opinions on college

(Story/Media)

Mar 10, 2017

Germs are winning: Excessive absences plague KHS

(Media)

Mar 02, 2017

Hockey shut out by Grand Blanc

(Story)

Feb 28, 2017

United defeated by Airport/Flat Rock/Summit Academy

(Story)

Feb 24, 2017

Fenton/Linden outlasts hockey team

(Story)

Feb 24, 2017

Colin Powell served as the first black chairman of the joint chiefs of staff

(Story)

Feb 23, 2017

Students who earn income have to file their taxes

(Story)

Feb 22, 2017

Students may take one year of foreign language rather than two

(Story)

Feb 21, 2017

United skates past the Raiders

(Story)

Feb 13, 2017

Hockey loses to Fenton/Linden

(Story)

Feb 13, 2017

Hockey Week Across America starts in the end of February

(Story)

Feb 10, 2017

Movie buffs, here are 10 classic movies you should watch

(Story)

Feb 09, 2017

Cole Zemore strives to make every day better for himself, others

(Story/Media)

Feb 06, 2017

Hockey defeated by Cabrini

(Story)

Feb 02, 2017

United falls to Bay Area Thunder 8-1

(Story)

Feb 02, 2017

Trump's treatment of journalists is a sign of change

(Story)

Jan 26, 2017

Hockey wins one of last five games

(Story)

Jan 13, 2017

Hockey shut out by Freeland

(Story)

Jan 11, 2017

Earegood recommends five books he read last year

(Story)

Jan 11, 2017

Hockey falls to Airport/Flat Rock/Summit Academy

(Story)

Jan 06, 2017

Tablets can offer an alternative to heavy textbooks

(Story)

Dec 22, 2016

Skate with the hockey team

(Story)

Dec 19, 2016

Prep hockey participation is declining in Michigan

(Story)

Dec 16, 2016

Shopping for gifts doesn't have to be hard

(Story)

Dec 15, 2016

Hockey loses to Southgate Anderson

(Story)

Dec 07, 2016

Popular vote doesn't pick president, Electoral College does

(Story)

Dec 07, 2016

Hockey beats Union High School

(Story)

Nov 30, 2016

All lives matter, not just black or blue

(Story)

Nov 10, 2016

TeenQuest gives students opportunity for job experience

(Story)

Nov 04, 2016

Turn back your clock one hour when daylight saving ends

(Story)

Nov 01, 2016

Pokémon is GOing away

(Story)