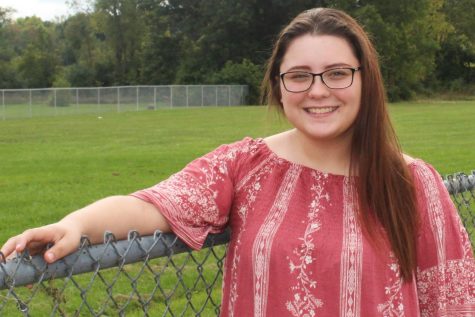 Birthday: Aug. 30, 2001


Hobbies/Interest: I enjoy bowling, reading, hanging out with friends, and watching Netflix.


Favorite Quote: "Being deeply loved by someone gives you strength, while loving someone deeply gives you courage." - Lao Tzu


Favorite Book: I don't have a favorite book.


Plans After High School: Going to college to pursue a degree in nursing and to bowl in college.


Alexis Roof, Reporter
May 30, 2019

Parents should help students cope with stress

(Story)

May 30, 2019

Seniors recognized at scholar-athlete luncheon

(Story)

May 23, 2019

Bouchard sisters explore fighting fires

(Story)

May 17, 2019

The Eclipse seniors say goodbye

(Story)

Apr 29, 2019

Class of 2019 celebrates prom

(Story)

Apr 01, 2019

Ramey will further shot put career in Turkey

(Story)

Mar 15, 2019

Motivators push Dawan to succeed

(Story)

Mar 15, 2019

Women's History Month: Marie Curie set the stage for women in science

(Story)

Mar 04, 2019

SAT prep offered to juniors

(Story/Media)

Feb 20, 2019

Black History Month: Mott's first black president breaks glass ceiling

(Story/Media)

Dec 19, 2018

Hardy turns hair into Christmas tree

(Story)

Nov 30, 2018

Hornets kick off winter sports

(Story/Media)

Nov 16, 2018

Thanksgiving history intrigues students

(Story/Media)

Nov 06, 2018

Michigan voters have three ballot proposals to consider

(Story/Media)

Oct 30, 2018

Celebrate Halloween with these 10 must see movies

(Story)

Oct 16, 2018

Counselors help parents, students at Financial Aid Night

(Story)

Oct 09, 2018

Soccer ties Trojans, Raiders

(Story)

Oct 01, 2018

Goodrich squeezes past soccer team

(Story)

Sep 25, 2018

Soccer squeezes past Corunna between two losses

(Story)

Jun 07, 2017

Football touches the life of Dylan Buschur

(Story/Media)

May 19, 2017

Golf falls to Blackhawks

(Media)

May 12, 2017

Excuses should not replace the truth

(Story)

May 09, 2017

Tennis placed third at quad match

(Story)

May 01, 2017

Hornets, Trojans tie in tennis at K-O Clash

(Story)

Apr 25, 2017

Tennis team ties with Fenton

(Story)

Apr 20, 2017

Throwers lead the boys track and field team in first league meet

(Story)

Apr 19, 2017

Tennis drops league opener to Holly

(Story)

Apr 13, 2017

Tennis wins first home match of season

(Story)

Mar 31, 2017

An open letter: I love my parent who stuck by my side

(Story)

Mar 07, 2017

Boys bowling advances to quarterfinals, Linn earns All-State honors

(Story)

Mar 06, 2017

'Murder Will Make Him Mine' debuts this week

(Story)

Mar 02, 2017

McKerchie wins bowling regional

(Story)

Feb 27, 2017

Crowned again: Boys bowling wins fourth regional in a row

(Story)

Feb 14, 2017

Five students share their thoughts about Valentine's Day

(Story)

Feb 08, 2017

Bowling, family drive Imari Blond to succeed

(Story/Media)

Jan 23, 2017

Boys bowling remains undefeated

(Story)

Jan 18, 2017

Boys bowling beats Swartz Creek, places second in tournament

(Story)

Jan 13, 2017

Boys bowling crushes Linden

(Story)

Jan 05, 2017

An open letter: My coach made me love the game even more

(Story)

Dec 22, 2016

Boys bowling squeezes past Swartz Creek, places fifth in Baker tournament

(Story)

Dec 20, 2016

Boys bowling wins Baker tournament

(Story)

Dec 16, 2016

Boys bowling wins again, remains undefeated

(Story)

Dec 14, 2016

Boys bowling beats Flushing, Brandon

(Story)

Dec 14, 2016

Celebrate Christmas with these 10 must-haves

(Story/Media)

Dec 06, 2016

Boys bowling begins season with a win

(Story)

Nov 22, 2016

Culture, religion may affect Thanksgiving celebrations

(Story/Media)