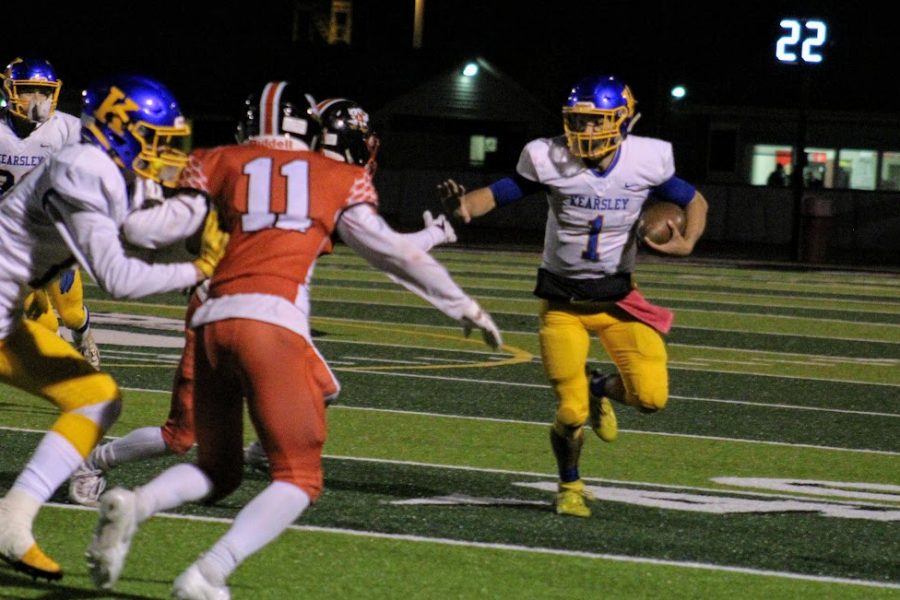 Mackenzie Atkinson
The Kearsley Hornets took to the field against the Eagles of Linden for the MHSAA Division 3 District Championship.
The Hornets made history once again winning Kearsley's first ever football District Championship in a high stakes game against the Eagles who they had lost to earlier in the season.
Senior Braylon Silvas went 17-23 on the night throwing three touchdowns and one interception.
The Hornets accumulated 373 yards with 227 coming from passing and 146 from rushing.
Silvas scored the first points of the game with a four yard rush leading the Eagles 6-0.
He then passed the back to senior Jace Chapman for a five-yard touchdown stretching the lead 14-0.
Silvas threw a 56 yard pass to junior Tyler Csintyan for another Hornet touchdown leading 20-0.
The Eagles scored with 55 seconds left in the half making the score 20-7 going into halftime.
Linden got the ball to start the second half and used it to score twice still trailing  20-14.
The Eagles score for their first lead of the game with 21 unanswered points and a running score of 21-20.
Silvas ran in for a one yard rushing touchdown to make the score 28-21.
He started the fourth quater with a touchdown pass the Chapaman leading the Eagles 36-21.
The Eagles rushed for a 50 yard touchdown to end the game 36-28.
The Kearsley Hornets would have taken on Chelsea Bulldogs Friday, Nov. 20, but due to a mandated state-wide shutdown by the Michigan Department of Health and Human Services, the season can be expected to return in early to mid-December.