Silvas leads boys track at Flint Track & Field Showcase
With 104 points, the boys track team earned fourth place at the Greater Flint Track & Field Showcase at Fenton on Friday, May 10.
Fenton won the event with 201.5 points, while Mt. Pleasant came in second with 154.
Swartz Creek's 118 points were good for third overall.
Sophomore Braylon Silvas turned his hard work in practice into first place performances in the hurdle events, setting a personal record in the 110-meter high hurdles at 15.80 seconds and finishing the 300 hurdles in 44.26.
Silvas also performed his best of the season in the long jump, leaping 20 feet, 3 inches. He took second in the event.
Coach Paul Adas credits Silvas' work ethic in practice as a reason for his success.
"Braylon is very self-motivated," Adas said. "He does a really nice job in practice, not only helping me coach hurdlers but working out himself. He's been working hard and has improved drastically."
Austin Hennessy, senior, placed fifth in the 110 hurdles with an 18.56-second personal record. He also ran his best time in the 300 hurdles for third place at 46.52.
Taking first, senior Dylan Buschur launched the discus for a personal record of 143-10.
At 124-11, Senior Eddie Harris took second with his discus throw.
Senior Nick Letterman sent the discus flying 118-05, which locked him into fifth place overall.
Adas said field events have been crucial for the team this season.
"Field events have been carrying us in our dual meets," Adas said. "It helps us overcome a lack of personnel in the running events. They have been our strength this year as a team."
In the shot put, Harris captured third with a throw of 43-05.
With a fourth-place finish, freshman Tyler Csintyan jumped 5-06 in the high jump.
In the running events, the team continued to succeed.
Junior Raydoffa Braziel set a personal record in the 800 run, taking second place in 2:02.08.
Coming off of an injury, the time shows Braziel is recovering.
"He's improving throughout the season," Adas said. "He's recovering from a little injury, so running his fastest time in that meet was a pretty big accomplishment."
Placing seventh overall, senior Josh Bischoff set a personal record in the 400 dash at 55.25 seconds.
In the 3200 run, junior Mitchell Howell placed eighth in 11:36.95.
In the final Metro League meet of the season, the Hornets will take on Swartz Creek and Linden on the Eagles' home turf Tuesday, May 14.
The Hornets are currently 3-3 in the Metro League.
Adas hopes solid performances all around will carry the team over Linden.
"It's going to be another tight one with Linden," Adas said. "I'm hoping the guys will perform and we can pull out the close meet. We're hoping to go 4-4 in the (Metro) League."
About the Contributor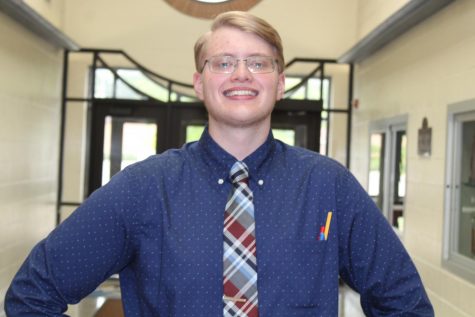 Connor Earegood, Editor in Chief
Class: Senior

Hobbies: I participate in quiz bowl, chess, robotics, Future Problem Solving, and many other "nerd sports."

Future Plans: I plan to...