Boys track outpaces Bronchos, falls to Tigers
Hang on for a minute...we're trying to find some more stories you might like.
While the boys track team was unable to defeat Metro League leader Fenton on Wednesday, May 1, in a double-dual meet, the Hornets stung Holly, a team with no victories this season.
The Hornets buzzed over the Bronchos by a margin of 83-41, but the Tigers pulled the wind from beneath their wings with an 85.5-51.5 victory.
As usual, field events carried much of the Hornets' scoring, with Kearsley sweeping the discus and taking first and second in the shot put.
Senior Eddie Harris threw the shot for 43 feet, 5.5 inches to take first in the shot put. Sophomore Isaiah Jones tossed it for 38-09 and second place.
Dylan Buschur, senior, launched the discus 136-03, taking first place, while Harris' mark of 117-06 was good for second.
Senior Nick Letterman sent the discus flying for 115-11, grabbing third place.
In the high jump, freshman Tyler Csintyan leaped for 5-08. The height put him in second place.
Junior Raydoffa Braziel won the 200-meter dash with a 23.90-second run.
Braziel felt the time was solid, considering it was the first time he ran the event.
"I kind of feel like it's pretty good," Braziel said. "It was my first time running an open 200. For me, it's a pretty fast time because I'm a mid-distance runner, but it still gets points for our team."
Kearsley dominated the 100 high hurdles, with sophomore Braylon Silvas running his season-best time of 16.22 to clinch first place overall. Senior Austin Hennessy captured second with a time of 18.81.
Silvas took second in the 300 hurdles at 44.37 seconds, while Hennessy ran the event in 46.88, placing third.
Running the 3200 relay in 8:55.99, freshman Derrick Phipps and Jiad Kokaly, junior Mitchell Howell, and senior Jacob Jones zoomed to first overall.
Setting a personal record in the 100 dash, Silvas pushed himself for third place with a time of 12.00.
With a record of 3-3, Kearsley sits at fifth place in the Metro League.
Braziel feels this record is good considering the team has struggles to put a full lineup on the track.
"I think for what we have, we're pretty good," Braziel said. "The fact that we are able to show up in our events, we're doing pretty good."
The Hornets compete next at the Goodrich Invitational at Goodrich High School on Friday, May 3.
About the Contributor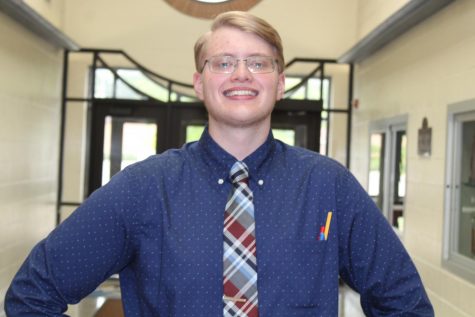 Connor Earegood, Editor in Chief
Class: Senior

Hobbies: I participate in quiz bowl, chess, robotics, Future Problem Solving, and many other "nerd sports."

Future Plans: I plan to...