MME will test juniors
Hang on for a minute...we're trying to find some more stories you might like.
The Michigan Merit Exam — which consists of the SAT, ACT WorkKeys, and the M-Step — is quickly approaching for juniors across the nation.
The test will be held Tuesday, April 9.
The test is comprised of the reading, writing and language, math, and essay sections.
The math section is also broken down into calculator and non-calculator sections.
Freshmen and sophomores will take the PSAT on the same day.
Junior Jolie Timm is prepared for the SAT.
She feels Khan Academy test prep has helped her prepare the most.
"It shows which specific areas I need to focus on," Timm said, "so I can spend more time on things I struggle with."
Mr. Chris Torok, math teacher, feels variety is important for students' test preparations.
"The more variety of prepping you do, the more you prepare and the more you see," Torok said. "The more you see, the better prepared you're going to be and you won't see any surprises."
He also warns his classes to pay attention to the time during the SAT.
"If you pause too long, the clock does not," Torok said.
Juniors also have to worry about the ACT WorkKeys, which will be given Wednesday, April 10.
While the Junior Class will start Wednesday at 7:30 a.m. to take the test, all other classes will start school at 11:35 a.m.
From what he has heard from his senior friends who took the test last year, junior Cole Zemore doesn't think the ACT WorkKeys will be a challenge.
"I've heard it's super easy and that you shouldn't worry about it," Zemore said.
Because of how easy the test is, Zemore does not see much value in the assessment.
"I don't really see the point," Zemore said. "If it's as easy as everyone says, I feel like it's a waste of time."
Students need No. 2 pencils, a calculator, and a photo ID for both tests.
Cellphones, smart watches, electronics, pens, mechanical pencils, and highlighters are prohibited for the tests.
Rounding off the MME, the M-Step is scheduled for Tuesday, April 16, through Wednesday, April 17.
Tests will be taken in the blue and gold computer labs.
With little preparation for the M-Step in classes, junior Makayla Nusbaum feels she will rely on her experiences with the test from middle school.
"I feel like taking it when we were younger helps, but it was too long ago," Nusbaum said. "If the M-Step is so important, we should be studying for that too."
She wishes classes would offer practice tests for the assessment.
"(Practice test would help) by making sure we know what to expect on test day," Nusbaum said. "I remember taking the M-Step. I just don't remember what's on it."
About the Contributor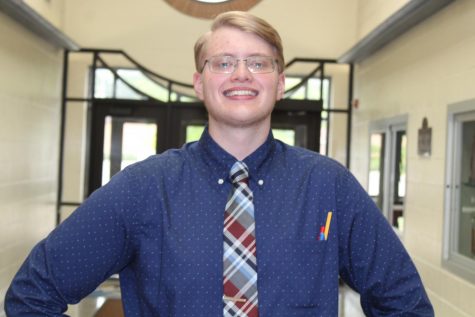 Connor Earegood, Editor in Chief
Class: Senior

Hobbies: I participate in quiz bowl, chess, robotics, Future Problem Solving, and many other "nerd sports."

Future Plans: I plan to...