Four Michigan teams compete in bowl games
Hang on for a minute...we're trying to find some more stories you might like.
Every year, college football's most talented and dynamic teams face off on the gridiron to bring pride to their fan bases and schools.
The College Football Playoff may not feature any teams from the mitten, but four Michigan teams will compete to tack on an extra win to their records and bring home bragging rights in bowl games this season.
Last year, I was 1-5 on my predictions. This year, I look to redeem myself.
National Semifinal at the Orange Bowl
The game will be played Saturday, Dec. 29, at Hard Rock Stadium in Miami, Fla.
Alabama (13-0)
Coach Nick Saban and the No. 1-ranked Crimson Tide will look to roll against the Sooners, keeping both their undefeated record and chance at a National Championship alive.
Sophomore quarterback Tua Tagovailoa will be the team's most dominant threat in the game if he is able to play.
He suffered a high ankle sprain in the SEC title game against Georgia.
He has 3,353 yards for 37 touchdowns, with only four interceptions in 13 games.
He is also a weapon outside of the pocket, finding every chance to slip through overaggressive defenses and gain extra yardage on otherwise foiled plays.
On defense, Tagovailoa's fellow sophomore Dylan Moses, a linebacker, is a roadblock for the Oklahoma offense.
With more than 76 total tackles and an ability to penetrate the offensive line, Moses can help regulate the middle of the field as well as pressure the Sooners play after play.
If Alabama can air out passes and penetrate a porous Sooner defense, the team has a chance to return to the national championship and win a title, which it did in 2017.
Oklahoma (12-1)
Junior Kyler Murray has been a force in his second year with Coach Lincoln Riley, compiling 4,053 yards and tallying 40 scores to just seven picks this season.
He leads the FBS with a 205.7 passer rating, leading his Alabama foe by just 3.4 points.
Murray is much more mobile than his opponent from the Cotton State.
Running back Kennedy Brooks, a redshirt freshman, has been a key component to the offense, pounding the ground for 1,021 yards and 12 touchdowns.
Oklahoma's defense has struggled this season, allowing 40 or more points in five of 12 games. The Sooners' late November bout with West Virginia was a 59-56 nail-biter that could have spoiled their playoff hopes.
This game will be a quarterback duel, and I feel the only way for Oklahoma to win is to shore up the defense and continue a potent offensive scheme that has worked well in the Big 12.
Prediction- Alabama 48, Oklahoma 35
National Semifinal at the Cotton Bowl
On Saturday, Dec. 29, the Cotton Bowl will be held at AT&T Stadium in Arlington, Texas.
Clemson (13-0)
The drama surrounding Coach Dabo Sweeney's mid-season quarterback change has kept audiences engaged and  provided a depth of lore around the undefeated Tigers team.
Senior quarterback Kelly Bryant was replaced by freshman Trevor Lawrence after four games and then transferred to the University of Missouri to take the position of starting quarterback.
Despite this emotional turmoil, Lawrence sailed 212 passes for 2,606 yards in 13 games.
His pocket passer approach to the offense has helped him deliver 24 touchdown feeds to the Tigers' receiver corps, 10 of which have gone to sophomore wide out Tee Higgins.
Current running back, sophomore Travis Etienne, is fifth in FBS rushing yards with 1,463 yards.
Linebacker Kendall Joseph, senior, and safety Isaiah Simmons, sophomore, have 73 and 75 tackles respectively.
If the team can pester the Fighting Irish offense, and Bryant can roar at his usual level under pressure, Clemson will emerge as the top cats in the only undefeated match up in the College Football Playoff.
Notre Dame (13-0)
The Fighting Irish, led by Coach Brian Kelly, started their season by beating Michigan in a tough 27-24 contest.
Since then, junior quarterback Ian Book and senior linebacker Te'von Coney have led their team to an undefeated season.
Book has nailed passes through traffic and extended plays to accumulate 2,468 passing yards and another 250 on the run. He has had a hand in 23 drives to pay dirt, and has fed senior receiver Miles Boykin 54 passes for 803 yards.
He leads Notre Dame, along with a tailbacks unit featuring 941-yard rusher Dexter Williams, in creating scores consistently and efficiently, a well-oiled machine stamping away like clockwork.
Coney, a defensive juggernaut, has taken down 107 opponents and recorded 3.5 sacks. Nine of his tackles resulting in a loss of yardage.
If Coney and Book step up to lead their units, Notre Dame's punch-out playing style could help them emerge victorious in this heavyweight fight.
Prediction- Notre Dame 27, Clemson 24
The Peach Bowl
The Peach Bowl will be held Saturday, Dec. 29, at Mercedes-Benz Stadium in Atlanta, Ga.
Michigan (10-2)
While the regular season may not have played out in a way Wolverine fans would have liked, the Victors will look to assert dominance over their SEC foes from the Creole State.
Junior quarterback and Ole Miss transfer Shea Patterson has been stellar this season, blending in seamlessly with Coach Jim Harbaugh's program.
Michigan's offense is a testament to adaptation, featuring many run-pass options and play-action passes to trick opposing defenses into crowding the line of scrimmage.
Patterson has created 2,364 passing yards and found the end zone 23 times for his team, and his mobility and poise in the pocket make him Michigan's blue chip.
Senior running back Karan Higdon stomped for 1,178 yards this year, generating 10 scores in the process.
Junior linebacker Devin Bush has been a consistent defensive threat, shutting down opponents and serving as the defense's leader in many game-altering situations. He has 4.5 sacks and 66 total stops this season.
If Michigan can play a consistent and disciplined game against LSU, the team can win its first bowl game in three years.
Florida (9-3)
The Gators, led by Coach Dan Mullen, improved from a 4-7 record last season to being a mid-ranked school.
Sophomore Feleipe Franks ignites the offense in most games, accruing 2,284 yards and 23 touchdowns.
He has a supporting tandem of rushers in juniors Lamical Peline and Jordan Scarlett, each powering for more than 700 yards on the ground and more than 800 past the scrimmage.
On defense, junior linebacker Vosean Joseph leads the team in tackles with 87 tackles. He has also sacked the quarterback four times, third best on the Florida squad.
When the two teams last met on New Year's Day in 2016, Michigan laid waste to the Gators, winning 41-7.
Florida will have to bring its A-game to win this ball game against a pass-defense savvy Wolverine squad.
Prediction- Michigan 48, Florida 27
The Redbox Bowl
The game will kick off Monday, Dec. 31, at Levi's Stadium in Santa Clara, Calif.
Michigan State (7-5)
It's been a rollercoaster season on the Red Cedar this year.
The Spartans, led by Mark Dantonio, beat an eighth-ranked Penn State team in week seven, then lost to rival Michigan seven days later.
Senior running back LJ Scott suffered an ankle injury that ended his final season prematurely.
Wide out Felton Davis III, another senior leader for the East Lansing squad, tore his Achilles tendon midway through the season.
Junior quarterback Brian Lewerke has regressed in passing, falling 925 yards short of his breakout 2017 season total. In addition, the injury bug has kept Lewerke sidelined during some games this year, so the Spartans may be led by back-up Rocky Lombardi.
The defense provides a silver lining to the team, with juniors Joe Bachie, linebacker, and Kenny Willekes, defensive end, creating a pressure cooker that can shut down the opposition when turned on.
Bachie has 94 tackles, nine of which were made behind the line of scrimmage.
Willekes has a nose for the backfield, ripping down opponents for 20.5 tackles for loss. Eight of these were performed on quarterbacks.
If the defense can stonewall the Oregon offense and keep the score low, the injury-plagued Spartans may rise like their namesake Greeks to defend their honor and fan base.
Oregon (8-4)
The Ducks, and Coach Mario Cristobal, are a dangerous team.
As they lost to a seventh-ranked Stanford team by a touchdown but beat seventh-ranked Washington with overtime heroics two games later, one could say the team is simply underperforming, a Pac-12 sleeper with loads of talent and potential.
Battling a shoulder contusion but probable to play in the game, junior quarterback Justin Herbert is having a great year under center, flinging the ball for 2,985 yards and 28 Oregon Duck touchdowns.
Michigan State may receive quite a few of his passes, however, as he has coughed up eight picks on the season. A few unlucky tips or hasty lobs could knock his team out of the sky.
Redshirt freshman CJ Verdell is questionable for the game with a foot injury, but he has been a high flyer for Oregon, running the ball for 975 yards and gaining another 312 in the air.
Junior wideout Dillon Mitchell set a career record with 1,114 catching yards and nine touchdowns, averaging 16 yards per touch.
Mitchell's classmate Troy Dye, a linebacker, has come up with 101 stops and five tackles for losses, though he hasn't reached a quarterback yet.
If the Ducks can overwhelm a Michigan State roster that has seen its leaders taken out by untimely injury, they can fly in a V not for migration, but for victory.
Prediction- Oregon 41, Michigan State 27
The Famous Idaho Potato Bowl
Boise, Idaho, will host the Famous Idaho Potato Bowl on Friday, Dec. 21.
Western Michigan (7-5)
Coach Tim Lester led the Broncos to a win above even this season, which is the schools best record since going 13-1 in 2016.
Suffering a right ankle ligament tear, junior Jon Wassink is out for the season. His 2,009 yards passing were a crucial cog in the Bronco offensive machine.
True freshman Kaleb Eleby, his replacement, racked up 917 yards in just four appearances.
His touchdowns to interceptions ratio is cause for concern, however. He has four scores for two picks.
Receiver-running back LeVante Bellamy, junior, has been Western's safeguard. He has 1,312 yards from the scrimmage, the majority of these coming on his feet.
Junior linebackers Drake Spears and Alex Grace highlight the team's defense, with 82 and 80 total stops respectively. The two also create turnovers, with a fumble recovery and pick apiece.
Western may have a squad finding its identity, but a win over the Cougars could help unite them as serious MAC contenders next season.
BYU (6-6)
Leading his team for the third straight year, Coach Kalani Sitake helped his team improve by two victories.
With two quarterbacks with over 1,000 yards passing, senior Tanner Mangum and true freshman Zach Wilson, the Cougars have many options for high-powered offense.
Sophomore Matt Bushman, tight end, has snagged 25 passes for 459 yards. He has crossed the goal line twice this year.
Senior linebacker and defensive lineman Sione Takitaki, senior, brought down 100 ball carriers this season, making nine of these behind the scrimmage.
BYU is listed as a double-digit favorite, and I can't help but agree with the experts on this one.
Prediction- BYU 49, Western Michigan 21
The Camellia Bowl
On Saturday, Dec. 15, the Camellia Bowl will take place in Montgomery, Ala.
Eastern Michigan (7-5)
Coach Chris Creighton has improved the Eagles team in his fifth season behind the clipboard, flipping the group's 5-7 2017 record.
Senior quarterback Tyler Wiegers, an Iowa transfer, serves as the team's spark, creating 1,887 yards and 11 touchdowns passing.
Senior tailback Blake Banham has reached for 714 yards in the air, breaking the plane for a a personal record six times.
The Eagles' best defensive player is undoubtedly senior linebacker Kyle Rachwal, racking up 115 tackles and bringing down two interceptions.
If Creighton's Eagles can pull together and perform on offense, a solid defensive effort can bring home a bowl title for the Ypsilanti faithful.
Georgia Southern (9-3)
The team, in its fifth year and on its third coach, Chad Lunsford, may be young but could serve spoiler to their opponents from the North.
Sophomore Shai Werts provides a wildcat option under center, with 954 yards passing and a close 822 yards between his linemen.
His 13 scores rushing and 10 on the pass make him an invaluable leader on the field.
Wesley Fields, a senior running back, dashed for 959 yards and pulled in the ball for another 237 yards.
Playing safety, senior Joshua Moon has delivered 68 tackles and made one interception, gaining 34 defensive yards.
Cornerback Monquavion Brinson, a junior, has performed 67 tackles and run a 30-yard interception. He has also denied nine passes.
If the Eagles can shut down a versatile Eastern Michigan group and let their quarterback play his game, the team can win its second bowl game in the last five years.
Prediction- Georgia Southern 38, Eastern Michigan 31
About the Contributor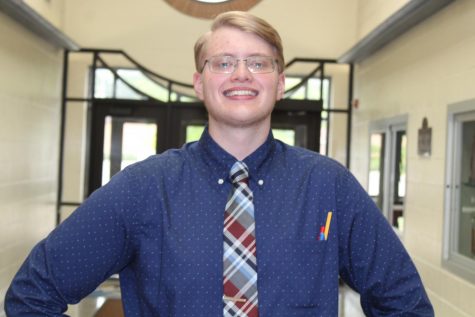 Connor Earegood, Editor in Chief
Class: Senior

Hobbies: I participate in quiz bowl, chess, robotics, Future Problem Solving, and many other "nerd sports."

Future Plans: I plan to...