Hockey team won't skate this season
The cold chill of a Saturday morning hockey game will not be felt by a Kearsley team this year. United Hockey will not play this season due to low participation of experienced players.
The end seemed to be nearing for years.
From becoming part of a cooperative team with Metro League companions Brandon and Holly, to eventually adding Lake Fenton to the team, the amount of players willing to shred ice for United was decreasing.
In 2016, Assistant Superintendent Paul Gaudard, who was athletics director then, said, "I am hopeful that we can sustain our team, but it is a challenge."
"
We just simply didn't have the numbers of experienced skaters to make it a safe experience for the student-athletes involved."
— Mr. Eric Doyle, athletics director
According to Mr. Eric Doyle, athletics director, the team did not have enough players to put out a team.
"We just simply didn't have the numbers of experienced skaters to make it a safe experience for the student-athletes involved," Doyle said. "It was a collective decision with the other schools and our coaching staff."
In the past, United Hockey was made up of players from Kearsley, Brandon, Lake Fenton, and Holly.
After the group posted a 13-12-1 record last season, the number of players was just too low to support a team.
The leaders of last season's squad, Kearsley alumnus Dru Sweers and Lake Fenton alumnus Drew Hobson, moved on from the team, and the organization had a huge gap to fill.
"Graduation hit the team hard from last year to this year," Doyle said, "and hockey is not a sport that lends itself well to students without much prior experience."
Even when it did have enough players, the team was inconsistent and reliant on veterans to come up big in games.
Many games were clutch, late-goal victories or ended up being landslides that seldom went in United's favor.
Doyle is disappointed in the team's demise but remains optimistic that the team might return in the future.
"We do plan to offer hockey again if the numbers support it," Doyle said. "We are hopeful in putting forward efforts to rebuild the program."
Mr. Travis Hill was hired as coach to replace Mr. Shawn Larsen in July, and Doyle said he has worked tirelessly to help grow participation in the team.
Hockey participation in Michigan has been declining for years, caused by decreasing economic prosperity and increasing equipment costs.
It can costs thousands in equipment and expenses to play as a forward or a defenseman, and goaltending equipment costs can make that look miniscule.
Younger players may be able to revive the program in the future with much effort and dedication.
"I'm hopeful that the underclassmen that we have within our program will help us to rebuild it," Doyle said. "I would suggest that the players stay involved, stay on the ice, continue to work with Coach Hill on skill development and, hopefully, they will see the fruits of their labor next year."
About the Contributor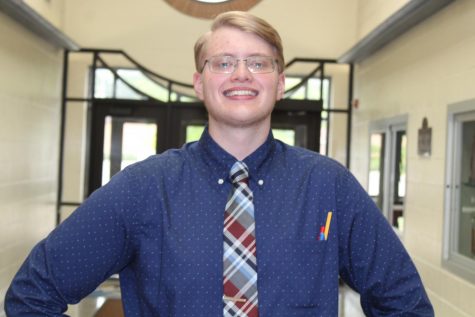 Connor Earegood, Editor in Chief
Class: Senior

Hobbies: I participate in quiz bowl, chess, robotics, Future Problem Solving, and many other "nerd sports."

Future Plans: I plan to...