Donald proud to play football like a girl
Hang on for a minute...we're trying to find some more stories you might like.
Junior Asia Donald couldn't play powder puff this year, but she was OK with that.
As a player on the football team, she wasn't allowed to be a part of the champion Class of 2020 team.
She was inspired to play with the boys by a desire to do something significant with her time.
"The opportunity to do something special in the community and inspire other girls to play football (inspired me to play)," Donald said, "as well as to show people that it is OK to be different."
Donald plays reps at wide receiver and cornerback, though she plays safety often in practice and games.
"
The entire first week of workouts was a struggle …. But the guys helped a lot."
— Asia Donald, junior
Donald's path did involve some labor, however.
"The entire first week of workouts was a struggle," Donald said. "Not knowing routes, how to lift, how to pad up, it was a learning experience. But the guys helped a lot."
For her, being the only girl on the team has equated to no different treatment.
"It's different than anything I've ever experienced before," Donald said. "They all treat me like one of the guys, and that was hard at first. But now they've started to soften up. It's a very fun experience."
Many of her fellow junior teammates have motivated and taught her throughout the season.
Donald said she has more than one mentor on the team.
She said that juniors John Brown, Ashtyn Cohoon, Braylon Silvas, and Fred Cregar, as well as sophomore Conner Cooper all deserve that title.
"They were the toughest on me and pushed me to come out every day to get better," Donald said. "Honestly, if not for them, I wouldn't have made it this far."
She believes their constant competition against her in practice helped her to succeed.
Donald said, "I ate a lot of dirt this summer because of them, but they never allowed me to stay down on myself and always showed me new ways to go about things."
"
I ate a lot of dirt this summer…."
— Asia Donald, junior
Support for her ventures in athletics has come from home as well as school.
"My mom has been nothing but supportive, and my dad has been the same way," Donald said. "They were worried about it at first, scared that I would hurt myself and be out for basketball season, but they have accepted it."
Junior Makayla Nusbaum has been one of Donald's biggest fans.
"I support her 100 percent," Nusbaum said. "When she told me she made varsity, I was so excited yet surprised."
She wears Donald's jersey to every game and cheers for her from the stands.
"I love seeing her play," Nusbaum said. "She doesn't get very much playing time, so I love to hear and see that she's out playing."
Football isn't the only thing that occupies Donald's time. She also plays basketball, runs track, and plays the clarinet in Kearsley's marching and symphonic bands.
Coach Kaleb Forr appreciates Donald's positivity and work ethic on the field, in public, and in the classroom.
He was excited when he saw she was joining the team.
"I want many players to play, no matter if they are a boy or a girl," Forr said. "Asia is really eager to learn and asks a lot of questions. She is always first in line to do something, and she wants to do what's best for the team. She fit the mold of what we want for a student-athlete on our team."
"
She is always first in line to do something, and she wants to do what's best for the team."
— Mr. Kaleb Forr, football coach
Knowing she has wanted to play since her freshman year, Donald's opportunity this season has been a dream come true.
"I knew I wanted to play freshman year, I just didn't know how to join the team," Donald said. "I knew I'd definitely be playing as a junior."
Her message for any girls considering playing football is simple.
"Do it," Donald said. "Do whatever you can do and work for it, not only in football, but in life as well. Football could be the start to a long road to success, so do it while you can."

About the Writer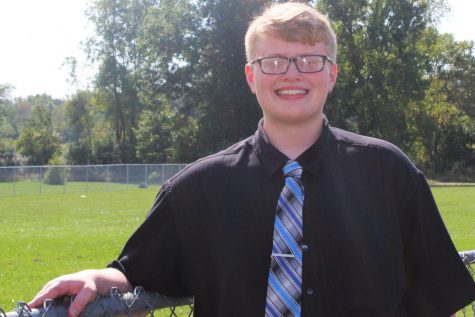 Connor Earegood, Managing editor
Birthday: February 25, 2002
Hobbies/Interests: Hockey statistics, robotics, chess, quiz bowl and trivia, history, Student Council, and Future Problem Solving.
Favorite Quote: "Whatever you do, do it safely, do it legally, and stay out of trouble." -Darrick J. Puffer
Favorite Book: "Fear and Loathing in Las Vegas" by Hunter S. Thompson
Plans After High School: I plan to attend the University of Michigan in Ann Arbor to study electrical engineering, pursuing a career in automation and technology. I also plan to contribute to the fan section of "Winging it in Motown," the SB Nation news site for the Detroit Red Wings, sharing my opinions on the team and its future to continue some form of amateur journalism through college.